Wacked Out News
Friday, 17 October 2014 06:12
PUB TO BREAK LONGEST CONCERT RECORD: An Irish pub on the Vegas strip is expected to break a Guinness World Record after hosting more than two weeks of nearly nonstop music. The concert began October 1st in the Ri Ra pub in The Shoppes at Mandalay Bay. The artists are playing nonstop with no more than a 25-second break between songs and a five-minute break between sets. (Yahoo)
CHINESE LOTTERY WINNER HIDES IDENTITY WITH BEAT SUIT: The winner of an $85-million-dollar jackpot wore a yellow bear costume to conceal his identity. The man, who won the third-largest jackpot in the history of the Shanxi lottery, kept the costume on when he spoke to the media. The mystery winner said he spends $3,200 to $4,900 on lottery tickets each year. He said he plans to donate some of his winnings to charity. (Metro)
PATIENT WOKE UP FROM COLONOSCOPY WEARING PINK PANTIES: A patient, who had his fellow co-workers perform his colonoscopy, woke up to find himself dressed in pink panties. 32-year-old Andrew Walls is suing the Delaware Surgery Center in Dover for what Walls' attorney called an "outrageous" prank by the victim's colleagues. The alleged prank, which occurred in 2012, led to Walls losing his job over "severe emotional stress." (Huffington Post)
TEEN LEAVES TIP COVERED IN POO: A teenager has been arrested after tipping a waitress with money covered in feces. The 17-year-old ate at the Brothers Bar and Grill in Indiana with six other Ball State football players. According to the police report, the waitress had a disgusting surprise when she came to collect the bill and smelled a "foul odor" coming from two dollar bills left as a tip. The suspect, who cannot be identified because of his age, was promptly arrested by police at the scene and taken to Delaware County Juvenile Probation Center. (Gawker)
300-YEAR-OLD RING IS FOUND SIMILAR TO LORD OF THE RINGS: A gold ring engraved with a romantic message has been unearthed and looks similar to the band in Lord of the Rings. Amateur treasure hunter Morley Howard was metal detecting in a newly plowed field in Somerset, England when he discovered a 300-year-old posy ring. The golden band, which reads "In thee my choys I do rejoys", might be sold to a museum once its age is proven. (Daily Mail)
Last Updated on Friday, 17 October 2014 06:13
Wednesday, 15 October 2014 05:26
26,714 ECSTASY PILLS SMUGGLED IN PICKLE CANS: A pair of drug smugglers have been jailed in France after 26,000-ecstasy pills were found hidden inside cans of pickles. French customs stopped the two men near the Netherlands border and found 13-cans of pickles. The seized drugs were estimated to be worth more than $253,100. (Navigator Online)
THIEF POSES AS WEDDING GUEST: A thief posed as a guest at a Connecticut wedding reception and stole gifts from the bride and groom. The man fled away from the scene with a birdcage filled with wedding cards. Police used dogs to track down the man, but only recovered an empty cage. The authorities have released pictures of the wedding crash from surveillance cameras. (Yahoo)
AIR UMBRELLA: A new Kickstarter campaign is trying to raise money for an umbrella that uses air to keep you dry. The new Air Umbrella was designed in Nanjing, China and is looking to raise $10,000-dollars for the project. The company says there are going to be three versions of the device each ranging in different sizes and price. The cheapest Air Umbrella is set priced to sell at $128 when made available for purchase. People, who make Kickstarter Pledges to the company, can expect their umbrellas by December 2015. (Mashable)
MAN JOINS CHICAGO MARATHON IN ATTEMPT TO ESCAPE POLICE: A Chicago man being chased by police joined the Chicago Marathon as he tried to escape the authorities. 28-year-old Bryan Duffy allegedly joined a pack of runners after cops began chasing him. Officers wanted to talk to Duffy after he was spotted digging around flower pots along the route. Police eventually apprehended Duffy and dug up 10 capsules MDMA and a wad of bills totaling $531. (DNA INFO)
CHICAGO IS THE "RATTIEST" CITY: Pest control company Orkin has dubbed Chicago the "rattiest" city in the United States. An analysis of rodent treatments performed by Orkin in 2013 indicates Chicago has the biggest rat problem in the United States, followed by Los Angeles, Washington, New York, and the San Francisco-Oakland-San Jose area. (Chicago)
Last Updated on Wednesday, 15 October 2014 05:29
Tuesday, 14 October 2014 09:57
PROSTHETIC LEG STOLEN NEAR STADIUM IS FOUND: A prosthetic leg, which was stolen from a veteran in a wheelchair outside the Eagles-Giants game, was recovered on a subway train. Sonny Forriest Jr. removed his leg while singing outside the stadium when a lady in her 20's took it. A Pennsylvania Transportation Authority conductor found the leg at about at the Olney station in north Philadelphia. Investigators have said it appeared that three women took part in the theft. (Yahoo)
NAKED WOMAN IN TREE GETS METH DEALER ARRESTED: A naked woman snitched on her drug dealer after being caught naked in a tree. Residents of Trinity Texas called the police after seeing a naked woman running around their neighborhood. When the authorities arrived on the scene, they found the woman in a tree. They soon received another call about a man running around the neighborhood naked, who turned out to be the woman's boyfriend. The couple admitted they had taken some drugs, and said they'd been searching for their dealer. They texted the alleged dealer and arranged a meet up, which resulted in the arrest of Jacob Walker. The naked couple was let go because they were cooperative and no longer a threat. (Huffington Post)
POLICE HECKLE COMEDIAN WHILE MAKING ARREST DURING HIS SHOW: Standup Comedian Adam Newman was halfway through his set when police walked into the crowd with flashlights. The NYPD proceeded to arrest an audience member and hurl expletives at Newman. Newman, who was trying to record a demo for Conan, used the incident as material for the rest of his set. (Gawker)
EBOLA THREATENS WORLD'S CHOCOLATE SUPPLY: Ebola could severely affect the world's chocolate supply. The Ivory Coast has closed its borders with Liberia and Guinea because of the outbreak. The two countries west of the Ivorian border, are among the countries worst affected by the virus. The Ivory Coast is responsible for supplying 30-percent of the planet's cocoa and the World Cocoa Foundation is aware of the implications such a move may have on the chocolate industry. (Mirror)
Last Updated on Tuesday, 14 October 2014 09:59
Tuesday, 30 September 2014 05:29
DIAPER SMUGGLERS BUSTED IN SWEDEN: Two Lithuanian men were caught trying to smuggle more than 25,000-diapers to sell on the black market. Swedish police say the two unidentified men purchased diapers in Norway, where they cost less than $1-a-piece. The men were supposedly looking to sell the diapers in Eastern Europe, but failed to cross the border in Jamtland because they didn't pay taxes on their merchandise. (The Local)
THE VULGAR CHEF RECIPE BOOK: An infamous food blogger just released a book documenting his food mashups including a cookie dough cereal bowl, a red velvet corn dog, and the cookie burger. The Vulgar Chef, who is known for expletive laden Instagram and heart stopping recipes, released the Eat Like Sh!t cookbook complete with his typical high calorie faire. (Metro)
HAPPIEST MUG SHOT EVER: A bank robbery suspect took one of the happiest mug shots. 45-year-old Michael Whitington's picture shows him with a wide, toothy smile, Police say he robbed a bank and tried to get away on a train, but was stopped a few blocks away from Denver's 16th street mall. (Huffington Post)
HUMAN FECES DROPPED FROM PASSING JET: A New Zealand woman says her house and car were covered in excrement from a passing plane. Karen Bass's home is directly under the flight path for planes flying into Auckland International, which she believes left her property in disarray. A sample of the dirt is going to be independently tested to confirm her suspicions. Experts believe that Bass' situation could be several things, including bird droppings, but admitted that "nothing is impossible". (Daily Mirror)
Last Updated on Tuesday, 30 September 2014 05:30
Monday, 29 September 2014 05:51
MAN DIES CROSSING STREET TO FUNERAL HOME: A Delaware man died while attempting to cross a street to get to a funeral home. 51-year-old Bruce Johnson was hit by a jeep while trying to get to the Bennie Smith Funeral home in Dover. Authorities say there will be no charges filed against the driver and that alcohol was not a factor. (Yahoo)
MARIJUANA YOUTUBE CHANNEL BUST: Las Vegas Police raided a house after the owner posted weekly updates on YouTube bragging about his marijuana crop. Jason and Stephanie Pelletier were arrested after Jason posted videos on YouTube under the name "Buddynuggets78". In the videos, Pelletier walks around explaining his water and power usage while identifying the different strains of pot, noting when they would be available for harvesting and then for sale. (Raw Story)
MAN UNLOADS GUN THE ONLY WAY HE KNOWS HOW: A 31-year-old fired a bullet that broke a neighbor's window because it was the only way he knew how to unload the weapon. No one was injured during the incident, but George Byrd IV is facing charges including persons not to possess firearms and discharging a firearm into an occupied structure. (Bucks County Courier Times)
THREE BREASTED WOMAN HALLOWEEN COSTUME: The three-breasted woman has inspired a Halloween costume despite being a hoax. Halloweencostumes.com created the perfect costume, which looks exactly like Jasmine Tridevil's viral selfie. The website created the costume overlapping two pairs of our "super drooper boobs" together and covering them in shiny pink fabric. (Metro)
MAN REFUSES TO MOVE CAR FOR HELICOPTER LANDING: A Florida man refused to move his car so a helicopter could land and transport a victim to a hospital. 26-year-old Tessa George lost control over her vehicle and struck a tree. She was airlifted to a hospital, but 52-year-old James Allen refused to move his car when the helicopter needed to land. Allen was charged with failure to obey police-fire department orders and resisting an officer without violence. (Yahoo)
Last Updated on Monday, 29 September 2014 05:58
Friday, 26 September 2014 06:25
PORNHUB IS LAUNCHING A RECORD LABEL: Adult website Pornhub has announced it is launching its own record label. Pornhub Records' first act is to find an official "anthem", offering prizes including $5,000 cash to create a music video to debut on the site. Pornhub has already received about 50 submissions, including some "erotic folk" songs.
GAMBLER SAVED BY SLOT MACHINE: A gambler in Germany was saved from prison by a slot machine. Two officers were carrying out routine checks at a casino when they discovered a man who had a warrant for his arrest. He had been ordered to pay a $910 fine or go to prison for 71 days after resisting police during a previous incident. As officers informed the man that he faced arrest, the slot machine started to flash and the beaming 37-year-old won a $1,270 jackpot. He paid on the spot! (Huffington Post)
POLICE WANT OWNERS TO CLAIM POT PLANTS: Police are asking the owners of some marijuana plants to come forward to "Claim" their property. The Northern York County Regional police made a post about the plants on twitter. It is unlikely would return the plants thought because it is illegal to have them in Pennsylvania.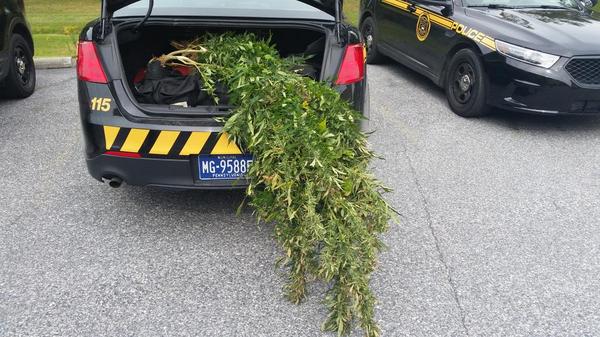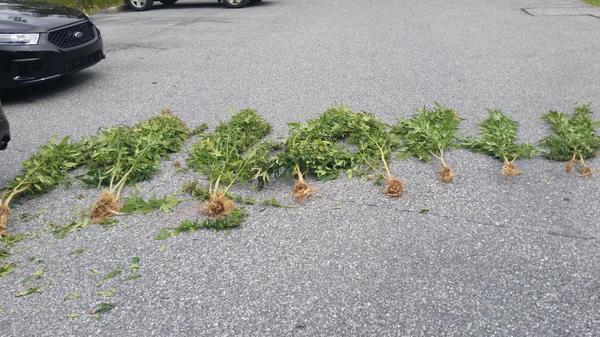 POTATO STOCK: An Ohio man's request for a little help making potato salad has culminated in Potato Stock 2014. The charity event to help prevent hunger and homelessness was all started by a Kickstarter campaign to raise $10 for potato salad. Soon fans of potato salad had helped Zack Danger Brown garner international media attention and accumulate more than $55,000. The Columbus, Ohio event is completely free and will have 300 pounds of potato salad. (Yahoo)
Last Updated on Friday, 26 September 2014 06:33
Thursday, 25 September 2014 05:32
CONDOM COOKBOOK: A Japanese cookbook titled Condom Dishes I Want To Make For You is full of recipes made with condoms. The book, which is available for $2.30 on Amazon Japan, includes recipes for escargot, curry pilaf, cookies and fruit parfaits. The top 100 bestseller was created to provide delicious recipes and promote condom use in Japan. (Kotaku)
TEACHER FIRED AFTER TALK OF KILLER ROBOTS: A San Diego teacher resigned after allegedly talking about programming robots to kill students. Tuyet-Mai Thi Vo was allowed to resign last year and received a $92,000 after the teacher and the Oceanside Unified School District came to a settlement. Vo supposedly said in 2012 that if robots were teachers, she would program them to shoot students when they misbehaved. (U-T San Diego)
BURGERS AND SEX TOYS : A Danish restaurant will become the country's first burger joint and sex shop. Hot Buns After Dark will allow customers to purchase burgers and fries in the same location as whips, chains, and other adult toys. The owner says the first 10 male customers Thursday(September 25th) will receive free penis rings while the first 10 women will receive free vibrators.
WOMAN IN CAR CHASE CLAIMS FOOT WAS STUCK: A 19-year-old is facing felony charges after leading police on a car chase that reached speeds of 100-miles-per-hour. Star Shields Williams was allegedly speeding in her red Ford Mustang when the officers tried to pull her over, but then the car started to speed up. Williams finally stopped the car on the side of the road Johnston County, in North Carolina. She tried to explain to police that her stuck foot was stuck on the pedal, but Shields was still arrested and charged with several felony charges.
Last Updated on Thursday, 25 September 2014 05:35
Wednesday, 24 September 2014 05:24
POLICE DELIVER PIZZA PIE: Two police officers delivered a pizza after a deliveryman was injured in a crash. Steve Huckins was concerned when police showed up at his Portland home, but started to laugh when they gave him a pizza. Officers Michael Filbert and Royce Curtiss finished the delivery after a Pizza Hut driver hurt his neck and back in the collision. (Yahoo)
CHEFS CREATE "HUMAN FLESH" BURGER: A pair of British chefs created a burger they say tastes like "human flesh". London baker Miss Cakehead and chef James Thomlinson designed the burger to answer the question, "What does human flesh taste like?" The burger contains pork, veal, chicken livers and bone marrow in an attempt to replicate the taste and texture of human meat. (Metro)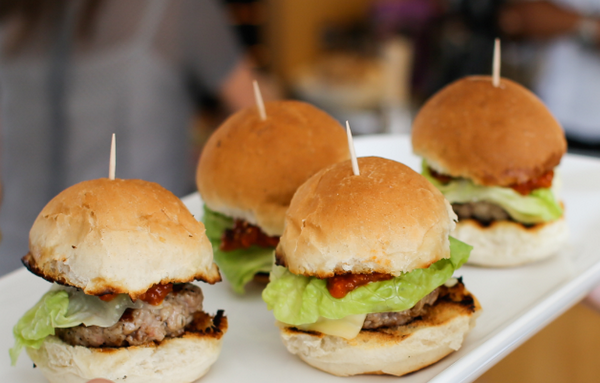 Someone's made a burger that tastes of human flesh. Have they gone too far?
BINKY BANDIT: The Oklahoma City Police Department are searching for a criminal they're calling the "Binky Bandit". The unidentified suspect had a binky in his mouth while he robbed a victim of his money and car keys. The suspect drove off in the victim's red 1997 Grand Prix and is still wanted. The suspect may have been using hallucinogenic drugs because pacifiers are often used to keep from drug user's from grinding their teeth. (Huffington Post)
TEXAS MAN USED COCAINE TO BUY VOTES: A Texas man used cocaine to secure votes for school board candidates in South Texas. 47-year-old Francisco Garcia was arrested and now faces voter fraud amongst other charges. An indictment alleges Garcia paid voters by giving them a "dime bag" of cocaine in the 2012 Donna school board elections . He is the latest to be implicated in a conspiracy to buy votes for the school board elections. Three women pleaded guilty earlier this year to voter fraud. (Yahoo)
THREE BREASTED WOMAN IS A FAKE: http://bit.ly/1ujiNr8
Last Updated on Wednesday, 24 September 2014 05:36
Tuesday, 23 September 2014 05:12
Last Updated on Tuesday, 23 September 2014 05:44
Monday, 22 September 2014 06:20
LOS ANGELES BAKERY DELIVERS MARIJUANA-INFUSED PIZZAS: A new startup in Los Angeles is delivering marijuana-infused pizzas to medical marijuana patients. Stoned Oven Gourmet Pizzas makes six-inch pies that contain 250-milligrams of THC. Customers must have a medical marijuana card to get the pizza, but if you do, you can get the marijuana pizza delivered right to your door. (Los Angeles Times)
2-TEENS DRAW 100-YARD PENIS ON FOOTBALL FIELD: A 50-year-old Mom and two teenagers allegedly burned a 100-yard image of a penis into a football field. Police say that the trio used grass killer to burn the turf in Temperance, Michigan. No photos have been released of their "artwork", which caused between 15,000-$20,000 in damage. The Detroit Free Press reports the woman, who has not been named because her daughter, a juvenile, could be identified, has been arraigned and is out on bond. (Huffington Post)
TIRED MAN BREAKS INTO POLICE STATION TO SLEEP: A tired man looking for a place to sleep "accidentally" broke into a police station. 59-year-old John P. Dettor was charged with unlawful mischief after reportedly using a traffic cone to smash through the window of Shelburne police station in Vermont. He reportedly caused damages of more than $250. Dettor pleaded not guilty to the charge at a Burlington district court. (Metro)
STOCKBROKER ATE NAPKINS TO HIDE INSIDER TRADING: A stock broker who admitted insider trading had a rather strange way of concealing his crime. 41-year-old Frank Tamayo would write secret stock tips on napkins and then eat them once his accomplice has seen them. Tamayo pleaded guilty to securities fraud, tender offer fraud, and conspiracy charges at the federal court in Trenton, New Jersey. Tamayo has already agreed to pay back more than $1million and will give up his 2008 Audi Q7 but faces a possible 20-year prison sentence. (Metro)
FLORIDA MAN THREATENS DRIVE-THRU EMPLOYEE OVER BURGER: A Florida man allegedly threatened to shoot a Checkers drive-thru clerk if he didn't hand over a burger. 27-year-old Dechazo Harris placed an order and pulled around to the pickup window when he decided that he wanted to change his meal. , Harris pulled out gun on the employee when he was told to drive back around to reorder. Harris was later identified and booked on aggravated assault charges. (Huffington Post)
Last Updated on Monday, 22 September 2014 06:28
<<

Start

<

Prev

1

2 3 4 5 6 7 8 9 10 Next > End >>


Page 1 of 100