Wacked Out News
Tuesday, 11 March 2014 13:04
MINOR LEAGUE TEAM'S BACON UNIFORMS ARE SELLING FAST: The Triple-A Leigh Valley IronPigs have sold almost 3,300 bacon hats that their players will wear for Saturday games during the season. The IronPigs, which are the Triple -A affiliate of the Phillies, announced on February 24th that the team would wear uniforms featuring a wavy strip of bacon on the hats, jerseys and pants. Since then, the team has sold almost 3,300 of the bacon hats and 1,500 bacon-strip scratch-and-sniff T-shirts that promise to smell through at least 10 trips in the washing machine. The team will continue the theme at the ballpark this year, selling bacon-flavored cotton candy and offering free bacon crumbles on all concession items the team sells, from hot dogs to ice cream. (ESPN)

Buy Your Bacon Hat or Shirt: http://ironpigs.milbstore.com//store.cfm?store_id=116

GRANDFATHER WRITES FUNNY OBITUARY FOR HIMSELF: A redditor's grandfather wrote a hilarious obituary for himself. Walter George Bruhl Jr.'s obituary includes a list of body parts that died before him and his remorse that there wouldn't be a viewing because his wife wouldn't let him appear "standing in the corner of the room with a glass of Jack Daniels in his hand." Walter wished to be cremated and asked for others to do good deeds for "some poor unfortunate soul" instead of sending flowers. Many reddit users have promised to do just that.

[Hosted by imgur.com]

FLORIDA FAMILY GETS SICK FROM LSD TAINTED MEAT: A Florida family of four became sick after eating meat tainted with LSD. 31-year-old Jessica Rosado, who is nine months pregnant, drove her boyfriend Ronnie Morales to the hospital after he began feeling ill and experienced hallucinations after dinner on Monday (March 3rd). It wasn't long before the rest of the family became sick and soon Rosado and her two children joined Morales in the Hospital. All four were treated and released, but the family left as five after doctors induced labor and Rosado birthed a baby boy. Local police are not sure how the LSD ended up in the thin-cut bottom round steak, but Walmart has started reviewing their security system for any evidence. (UPI)

STUDENT USES GEORGE FOREMAN GRILL IN MIDDLE OF LECTURE: A photo posted by Twitter user Ross Milne shows a student at the University of West Scotland uses a George Foreman Grill during a lecture. Another picture showed the man cutting into his snack while surprised students looked on. (Metro)

So a guy has started using a George Foreman in my lecture... pic.twitter.com/u9Em7vBL6l
— Ross Milne (@RossMilnee) March 10, 2014

MAN SUBMITS AT GRAPPLING CHAMPIONSHIP AFTER OPPONENT FARTS IN HIS FACE: A competitor the Grappling Championship in Las Vegas gave up after a competitor farted in his face during a match. The YouTube video, which has gone viral, shows one man submitting and eventually vomiting after the flatulent display. (Busted Coverage)

Watch the Match (Warning Puke Alert): http://bit.ly/1crrZlx
Monday, 10 March 2014 13:10
ROB FORD MESSES UP DAYLIGHT SAVINGS TIME: Toronto mayor Rob Ford messed up Daylight Savings time by telling everyone to set their clocks back instead of forward. The tweet was taken down 30-minutes later, but not before the Internet gave Ford flak for his mistake. The tweet read quote, "Daylight Saving Time starts this evening, turn your clocks back and change batteries in smoke alarms." (Mashable)

5K RUNNER WEAR UNDERWEAR IN THE OUTSIDE FOR CHARITY: About 300 Michigan runners wore their underwear on the outside, as part of the "FUNderwear Run" and the "LaughFest" comedy festival. The 5K run, which began at Grand Rapids Community College, included performances by Lily Tomlin and Jay Leno. Temperatures were in the low 20's, but that didn't stop runners from raising money for cancer patients in the Grand Rapids area. (UPI)

WOMAN MARRIES DOG: A 47-year-old divorcee has married her loyal pet terrier named Sheba. Amanda Rogers and Sheba tied the knot in front of 200 people in Split, Croatia even though the marriage isn't legally recognized. The ceremony took place in August 2012 after Rogers got down on one knee to propose to Sheba. Roger said that she could quote, "...tell by her tail wagging that she said yes". (Metro)

MEN COULD GET YEAR FOR "CANNONBALL" ON MANATEES: Two men pleaded guilty in Federal court in Orlando for diving onto a manatee and her calf. 22-year-olds Seth Andrew Stephenson and Taylor Blake Martin, who posted a video of their cannonball, could face one year in prison and a $50,000 fine. The U.S. Fish and Wildlife Service are hoping to address the illegal harassment of manatees as well as other activities that might result in the death or injury of Florida's endangered manatees. (Florida Today)
Friday, 07 March 2014 14:34
ROBOTIC DRUM STICK TURNS DRUMMER INTO CYBORG MUSICIAN: A professor at a Georgia Tech Lab invented a prosthetic arm attachment that allows an amputee to play the drums. Professor Gil Weinberg, who invented the device for Jason Barnes, created the arm to take the place of fingers. The device holds two drum sticks, one that is controlled by sensors in the musician's arm and another that "listens" to the music being played and improvises its own tune. (Metro)

PEE-WEE HERMAN'S BIG ADVENTURE BIKE IS ON EBAY: One of the bikes used in 1985's Pee-wee's Big Adventure is up for sale on eBay. The current owner, who originally bought the bike for $10,000, was looking to get about $15,000 from the sale, but the price has already exceeded $25,000. The bike, which is currently in pieces, comes with Paul Reubens autograph, a certificate of authenticity, and a Warner Brothers spec. sheet along with all of the bike's original parts. (AV Club)

BUY IT HERE: http://bit.ly/1gViNDh

SOLDIER RETURNING FROM AFGHANISTAN GETS AMAZING SURPRISE: A photo of an adorable baby waiting to meet her soldier father for the first time has gone viral. The picture, which was taken moments before US Army Specialist Cole Tesar met his seven-month-old daughter Harper, shows the baby girl holding a Carly Rae Jepsen-inspired poster, which read: "Hey I just met you and this is crazy, but my name's Harper and I'm your baby!" After returning meeting for the first time, father and daughter spent their afternoon together watching cartoons.

[Hosted by imgur.com]

(Photo Credit: Logan Tesar)

HOMELESS MAN CALL POLICE ON FAMILY LOUNGING IN PARK: A Florida family say their afternoon at a local park was ruined after a homeless person complained to police that they were lying down. Michelle McCormick and her husband were escorted from Fort Walden Landing along with their two children because they were in violation of a new law that forbids park visitors from sleeping or laying on seats, benches, or other areas. (NWFDailyNews.com)

NY WOMAN HITS POWERBALL WITH FORTUNE COOKIE NUMBERS: A 75-year-old New Yorker won $2-million-dollars after playing numbers from her fortune cookie. Emma Duvoll of the Bronx, matched five numbers for the February 1st Powerball drawing and will get a onetime lump-sum payment totaling $1,246,085 after required withholdings. She plans to invest the money and possibly take a trip to Switzerland to visit family. (Newsday)
Thursday, 06 March 2014 14:03
TEACHER CALLS POLICE ON STUDENTS WHO REFUSE TO SMILE: The head of a Welsh elementary school allegedly called police when she heard that students were planning not to smile for school photo. The general Teaching Council for Wales listened to complaints and allegations against Ann Hughes, the former Head mistress of the village elementary school in Anglesey. Hughes allegedly shouted excessively at students, showed favoritism toward students, called a student "stupid" and ripped up a paper after the student wrote his middle name incorrectly. (UPI)

8-YEAR-OLD PAYS OFF DELINQUENT LUNCH ACCOUNTS: An eight-year-old Michigan boy raised money to pay off all the overdue school lunch accounts after seeing a friend go without hot lunch. Cayden Taipalus raised money for his friend and other students after his friend was denied a hot lunch because of negative account balance. Taipalus, who was very upset after the incident, came up with a plan to raise money from family and friends and eventually raised $15,000, which they used to pay off negative balances for his school and other schools. (UPI)

BACON-SCENTED ALARM APP: Oscar Mayer has created an app that allows iPhone users to wake up to the smell of bacon. The Wake up and Smell the Bacon app and iPhone dongle, which can only be won by taking a quiz on an Oscar Mayer's website, lets users wake up to the sounds and smell of bacon as well as various bacon-isms. The dongle , which plugs into the iPhone and releases the bacon-like smell, is the latest project out of the Oscar Mayer Institute for the Advancement of Bacon which tries "unlocking the bacon's deepest mysteries." The contest runs through April 4th. (Mashable)

IF DISNEY CHARACTERS USED TINDER: http://on.mash.to/1mJO5Ep

INDIAN POLICE LOST PASSWORD FOR EIGHT YEARS: Indian police have not investigated hundreds of corruption complaints over an eight year period because they forgot a computer password. Delhi officers could not operate the portal that held over 600 complaints from the Central Vigilance Commission. Two senior police officer have been trained in the system after the shocking revelation was revealed by the Indian Express Newspaper. (CNN)

LARGEST DEEP-FRIED FERRERO ROCHER: A chip shop owner with a chocolate obsession has created the largest deep-fried Ferrero Rocher. John Clarkson of Preston, England created the 25,000-calorie treat that is ten times the size of a normal Ferrero Rocher. The 11-pound treat has become a hit with his customers at Mister Eaters. (Metro)
Wednesday, 05 March 2014 14:25
FLORIDA WOMAN CALLS 911 ABOUT RAW WAFFLES: A Florida woman called 9-1-1 to report that she was served raw, uncooked waffles at a Village Inn in Tampa. The clip was posted online by the Tampa Police department to raise awareness about when appriopriate time to call the authorities. According to the authorities. 50-percent of 9-1-1 calls aren't emergencies. (UPI)

SPELLING BEE RUNS OUT OF WORDS: Missouri County's annual spelling bee ran out of words during an extended contest. Kansas City's Sophia Hoffman and Kush Sharma were the only remaining contestants through 19 rounds, but organizers had to stop the competition after running out of words in the 67th round. Bee officials decided not to pull more words from the Merriam-Webster's 11th Edition dictionary because they worried that one contestant might get an unfair advantage. The contest is slated to resume March 8 at an undetermined library site. (Yahoo)

ROB FORD RUNS INTO FIRE HYDRANT WHILE CELEBRATING GOLD: Rob Ford ran into a fire hydrant while celebrating the Canadien victory over the Sweden in Men's Hockey. Canada came away with a 3-0 Victory over Sweden to capture its second straight gold medal. (Bleacher Report)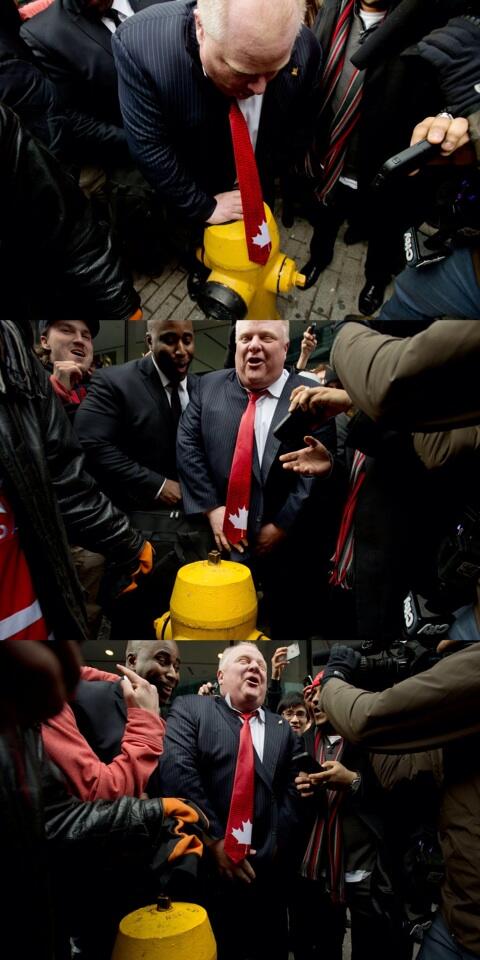 PARAMEDIC DELIVER HIS OWN DAUGHTER IN PARKING LOT: A North Carolina paramedic delivered his child in a fast-food parking lot because he was unable to get his girlfriend to the hospital in time. Paul Dupree and his girlfriend Erin Castro, were on their way to Carolina Medical Center in Charlotte when the bay's head started to breach. Dupree, who said he previously assisted with delivering babies two times, pulled the car into a Jack in the Box restaurant and delivered his daughter Harper Lynn. The birth wasn't without complication as the baby had it's umblical cord around it's neck, but Duprres was able to untangle the cord and ties his shoestring "to tie the cord off." The family plans to hang on to the shoestring as a memento of the birth. (UPI)

TEEN ACCIDENTALLY SWALLOWS BLOWDART : A 15-year-old South Carolina boy swallowed a blow dart after accepting a Youtube Challenge. Shan Stillinger of Charlestown, tried a Youtube experiment that required shooting a blowdart at a tree, but the dart fell down his throat when he tilted it to shoot. It took three trips to different hospital to finally remove the dart from his windpipes. (Gawker)
Tuesday, 04 March 2014 13:52
MAN USES RIBS RECIPE AS INSPECTION STICKER: A 51-year-old Massachusetts man tried to pass off a short ribs recipe as his car inspection sticker. Kevin Guy, who also had a suspended license, was arrested Friday (February 28th), after he was stopped by Salisbury Police. (UPI)

WORST SPELLING OF BARACK OBAMA EVER: A twitter user has been globally mocked for spelling Barack Obama's name incorrectly. Twitter user @gemworrallz posed the question quote, "If Barraco Barner is our president why is getting involved with Russia? Scary." Her post has been retweeted more than 2000-times despite her demands that the mocking stop. (Metro)

If barraco barner is our president why is he getting involved with Russia, scary
— Gemma Worrall (@gemworrallx) March 3, 2014

MAN FIGHTS WITH LEGEND OF ZELDA SWORD: A Houston man says that he was forced to wield his "Legend of Zelda" sword in a fight against his girlfriend's estranged husband. Eugene Thompson was home with his girlfriend when the couple had an argument, and she proceeded to call her estranged husband. The ex-husband arrived at Thompson's house at around 10pm when his girlfriend let the man inside despite Thompson's objections. Thompson, who heard the man heading to the bedroom where he was at the time, grabbed one of his replica swords and stabbed him in the chest and leg, but not before the ex-husband smashed a flower pot on Thompson's head. Both men were taken to the hospital and treated for their injuries. (Huffington Post)

PHILLY REPORTER HIT WITH WALL OF SNOW: A Philadelphia news reporter was pelted by snow from a passing by plow while reporting on the snowstorm in New Jersey. Steve Keeley from Fox 29, was blasted with a wall of snow on Monday (March 3rd) morning despite being twenty feet from the road. Keely didn't miss a beat during the broadcast as his co-anchors joked that it must be a competing station driving the plow. (Yahoo)
Monday, 03 March 2014 14:24
PIZZA DELIVERY HUNGER GAMES STYLE: A reddit user tried to pit two pizza delivery men against each other in a Hunger Games style face-off. Reddit user Sanwhanger reportedly ordered Pizza Hut and Dominos and then placed two whiffle ball bats outside his house. He had hoped the men would fight in order to be the first one there. He left a left a quote on the door from Hunger Games that read quote, "may the odds be ever in your favor." It is unknown if the two delivery men actually met in battle. (Metro)

[Hosted by imgur.com]

MAN SUES MCDONALD'S FOR ONLY GIVING HIM ONE NAPKIN: A California man is suing McDonald's after he was only given one napkin when he ordered a Quarter-pounder deluxe. Webster Lucas claims that he complained to the manager at the Pacoima McDonald's, but was told that he had already been given his allotment of napkins. Lucas, who spoke to the General Manager about the "undue mental anguish", also believes that the manager mumbled something about,"you people". He has been offered free burgers as compensation by the General Manager as compensation for his mental anguish. (Daily Mail)

WOMAN ATTEMPTS TO STEAL 330 PIZZA ROLLS: A Walmart employee observed a woman stealing 330-Pizza Rolls. The unidentified woman was then watched as she poured $25.90 worth of pizza rolls into her purse before being stopped by security. She was charged with theft of property, but Walmart did not pursue a criminal trespass warning. (Consumerist)

HORSE HEAD FEEDER FOR SQUIRRELS: A Seattle store is selling horse head squirrel feeders. The feeders, which look like miniature horse masks, are being sold by Archie McPhee for $15. The description on their website says quote, "You'll laugh every morning as you drink your coffee while staring out the window into your backyard," (Metro)

[Hosted by imgur.com]

SHOELESS MAN REFUSES CHARGERS' FLIP-FLOPS: A California restaurateur decided to help a shoeless man by giving him flip-flops, but was turned down after the man noticed a Chargers logo on them. Stephen Felando who gave food to the unidentified homeless man was told "I'm Good" after offering Chargers' flip-flops. (Gawker)
Friday, 28 February 2014 14:22
60-YEAR-OLD WOMAN ACCIDENTALLY BECOMES 87th HOTTEST ATTRACTION IN GLASGOW: A registration mishap on TripAdvisor, has made a 60-year-old woman the 87th ranked tourist attraction in Glasgow, Scotland. Mary Johnston, who is currently rated four out of five stars, isn't sure how she was added to the site as an attraction especially since the website screens each tourist attraction submitted. (Mashable)

[Hosted by imgur.com]

(Photo Credit: Reddit)

[Hosted by imgur.com]

(Photo Credit: Reddit)

HIGH SCHOOL STUDENT MAKES BILLBOARD PROM PROPOSAL: An Indiana high student rented a billboard to ask his girlfriend to prom. Chase Brown knew that his girlfriend, Emily Arabia, wanted something big for his prom proposal. So, Brown had a picture of the two of them put on the billboard in one of Evansville's busiest intersections with the words: "Emily, will you go to prom with me?" Arabia screamed when she saw it and agreed to go with Brown their prom in April. (UPI)

JAPANESE BEACH BANS SCARY TATTOOS: A Japanese town has passed a ban on displaying "scary" tattoos. Zushi Beach, which is a ten-minute ride from the U.S. Naval Base in Yokosuka, will also not allow loud music, barbecues, and drinking beverages on the premises starting in late March. The city will establish a committee to determine how the rules will be enforced. A single tattoo would be allowed on the beach, but since tattoos in Japan are often a sign of membership in the Yakuza crime group, many bystanders have become weary of marine's body art. (Washington Times)

NORTH KOREAN ZOO UNVEILS YORKSHIRE TERRIERS: The Central Zoo in Pyongyang, North Korea has revealed its newest attraction, a pack of Yorkshire Terriers. The miniature dogs, which are unfamiliar to many North Koreans, will be trained to perform tricks for visitors. The zoo, which houses 650 different species in 60 animal sheds and aquariums, has come under fire for some of the treatment of animals and has been condemned by travel publication Lonely Planet. (Daily Mail)

WOMAN EATS OVER 160-POUNDS OF KETCHUP EVERY YEAR: A British 19-year-old woman loves ketchup so much that she consumes 165-pounds of the condiment every year. Melissa Ibbitson, who spends almost $500 on ketchup yearly, first fell in love with the condiment as a child eating at McDonald's. Some of Ibbitson's daily meals include spaghetti with ketchup, beans with ketchup, and ketchup sandwiches, but she isn't picky about the brand despite her preference for Heinz. (Daily Mail)
Thursday, 27 February 2014 14:18
RYANAIR'S $10 FLIGHTS: Irish budget airline RyanAir is planning to offer $10 flights from New York to Europe as soon as they get enough planes. The $10-dollar flights, which fly to New York, Boston and 12-14 major European cities, will not be available for another four to five years due to Arab states buying the present supply of aircraft. RyanAir's CEO Michael O'Leary explained that the company could make money off of 99-cent fares, but that "there will also need to be a very high number of business or premium seats. (Gawker)

BROOKLYN MEN ARE GETTING BEARD TRANSPLANTS: A Brooklyn Doctor has been performing about one beard transplant per month because of New York's hipster neighborhoods like Bushwick, Park Slope, and Williamsburg. Dr. Yael Halaas, who charges $3,000 for fill-ins and $7,000 for a full beard, takes hair from the patient's head and through micro-incisions plants the root of the hair. Once the beard hair takes root it can be shaved like normal hair, but not before it will falls out and begins to grow. (NBC)

METH COOK ARRESTED WHILE WEARING T-SHIRT: An Illinois man, who was arrested for cooking meth, wore a Breaking Bad inspired t-shirt during the ordeal. Daniel Kowalski's house in LaGrange was raided by police after a tip that he was using it to make meth. Kowalski was arrested in a "Los Pollos Hermanos" t-shirt, the fictional chicken restaurant owned by Breaking Bas character Gus Fring. (Gawker)

[Hosted by imgur.com]

HILLBILLY BLOOD STAR USES COWPIES TO CURE ITCHY FOOT: Self proclaimed hillbilly Eugene Runkis and star of the reality show "Hillbilly Blood" used cow excrement to cure his itchy feet on an episode airing Saturday (March 1st). During the episode Runkis is skeptical about dipping his toes into cow poop, but is eventually persuaded by his friend Spencer "Two Dogs" Boljack. After Runkis dips his foot in the cow dung, he washes his foot in a nearby creek and went back to his real mission; collecting cow pies to use as an energy source for a scrap metal hot water heater. (Huffington Post)
Wednesday, 26 February 2014 14:13
SELFIES ARE SPREADING HEAD LICE: Lice-treatment experts in California believe that there is an increase of head lice due to selfies. Marcy McQuillan, who runs two Nitless Noggins treatment centers, says infestations have easily spread as a result of hair contact from people leaning in to take pictures of themselves. McQuillan has treated several teens that have admitted to taking selfies with others before receiving treatment. Many medical experts have been critical of McQuillan's claims and believe that these "epidemics" are a marketing ploy. (CBS)

TRAIN CONDUCTOR WRITES 500 APOLOGY LETTERS: A 48-year-old Metro North train conductor wrote 500 apology letters after mistakenly directing passengers to a train that never came. Michael Shaw, who is the president of the conductors union, placed the 500 letters on the New Haven line's seats for the mistake. The letter, which has gone viral because several riders posted the letter to twitter, addressed riders as "our friends and passengers" and apologized for the rash of problems plaguing the line. (NBC)

MAN GETS SPIDER TATTOOED ON HIS FACE: A 24-year-old Florida man had a spider tattooed on his face to help combat Arachnophobia. Eric Rico Ortiz, whose tattoo was spotted by a reporter for the Daytona Beach News-Journal in felony court, decided to confront his fear of spiders last year by getting the tattoo. Ortiz said that some people are annoyed by it, but others are less judgmental... His girlfriend left him shortly after he got the new ink. (Huffington Post)

BUDWEISER WANTS OPENING DAY TO BE A NATIONAL HOLIDAY: Budweiser and Major League Baseball legend Ozzie Smith have announced their petition on White House.gov to get a national holiday for opening day. They are hoping for 100,000 signatures by March 31st to have the petition reviewed by the current administration. (UPI)

FEMALE DRIVER USES HER BREASTS AS AN EXCUSE TO BEAT TICKET: A British woman used her breasts as an excuse to get out of ticket. Lincolnshire Police pulled a woman over in Grantham, England to give her a ticket for not wearing a seatbelt. Upon speaking with her, they realized that she wasn't wearing her seatbelt across her chest because quote "it hurt my boobs." She was given advice by the officers, but let her go without a fine. (Lincolnshire Echo)
<<

Start

<

Prev

1

2 3 4 5 6 7 8 9 10 Next > End >>


Page 1 of 90