Wacked Out News
Friday, 24 October 2014 05:12
HITLER COFFEE CREAMER: A Swiss supermarket chain has apologized after selling coffee creamers with portraits of Hitler and Mussolini on them. Migros immediately withdrew the boxes and is breaking all ties with the company Karo-Versand. The supermarket described the incident as an internal failure and vowed to "tighten our controls for these products drastically" to ensure no more mistakes. (Yahoo)
WOMAN STASHES 25-THOUSAND WATCH IN HER VAGINA: An Australian tourist claims that a woman he took home from a bar stole his watch and hid it in her vagina. The victim took 25-year-old Shacarye Tims back to his room at a New York City Holiday Inn. Tims started giving the Brenton Price a massage when she reportedly complained that 25-thousand-dollar Rolex watch was scratching her. She convinced him to take it off, and 10 minutes later, Price noticed that it was missing. Tims tried to flee the hotel room once Price started searching for it. Police arrived on the scene and claim they saw Tims take the Rolex "out of her vaginal cavity and hand it" to them. (Huffington Post)
COACH FIRED FOR WATERMELON RITUAL: The head coach of the Academic Magnet High School football team was fired for smashing a watermelon after the school's games. The district said Coach Bud Walpole was fired because a post-game ritual was racially insensitive. Parents disagree and more than 2,500 people have signed a petition online asking to reinstate Walpole. The tradition began when players used to buy watermelons from a man who had been selling them on their way to their football games. If they won the game, the team decided they would eat the watermelon. The team would always smash the fruit because they never had a knife. (The Post and Courier)
MAN ATTEMPTS TO BUY WEED FROM PROBATION OFFICER: A man texted his probation officer asking for weed. Alvin Cross, Jr. allegedly texted the man supervising his probationary period quote, "you have some weed?" After the text was received, drug agents raided Cross' home and found a bag of cocaine. (Metro)
DANCING PRIESTS BECOME INTERNET SENSATION: A pair of dancing priests have gone viral. Reverend David Rider and Reverend John Gibson shot to internet fame when they were filmed at a fundraiser at the North American College. Rider warmed up the crowd with a lively tap-dance routine, only to be pushed aside by Gibson's fast-footed Irish dance. Soon they were battling it out, trying to impress the crowd. At the back of the room, journalist Joan Lewis recorded the event and later posted on YouTube. (Yahoo)
Last Updated on Friday, 24 October 2014 05:26
Wednesday, 22 October 2014 05:12
ZOMBIE PROOF CABIN FOR SALE: A British company is marketing the Zombie Fortification Cabin. Tiger Log Cabins unveiled the ZFC-1 on its website for a starting price of about $112,000-dollars. The basic cabin package includes barbed wire, reinforced windows, an escape hatch, a storage unit and an upper deck with a 360-degree vantage point for spotting the undead. Buyers can also obtain security cameras, riot protection gear and solar panels for extra fees. (Cnet)
STORE CLERK USES BUG SPRAY TO WARD OFF ROBBER: Store clerk wards off a potential robber with bug spray. A masked woman entered the Coalfield Mini Market and demanded money from Annabelle Miller, but she refused. Miller sprayed the woman in the face when the suspect started to retreat from the register.(Yahoo)
FLASHER GOES EXTREME SHOPPING: A man accused of flashing woman at a mall in Florida told officers that he was just "Extreme Shopping." 27-year-old Christopher Glaze was arrested after two women reported that he exposed himself. Glaze allegedly explained to officers that "extreme shopping" was "when you go shopping and you talk to girls and flirt." (Huffington Post)
EBOLA CUDDLE TOY SELLS OUT: US toy company Giant Microbes sold out of its Ebola cuddle toys. The company, which specializes in cute versions of killer bugs, sells for $29.95. Giant Microbes has now shipped its entire stockpile of the toy it describes as the "T-Rex of microbes." (Mirror)
Last Updated on Wednesday, 22 October 2014 05:27
Tuesday, 21 October 2014 05:28
PITTSBURGH WINS UGLIEST ACCENT TOURNEY: Pittsburgh won Gawker.com's ugliest accent tournament. The gossipy news site set up a tournament bracket pitting the 16 ugliest city accents in the United States against one another. The Pittsburgh accent, an odd combination of southern twang and lazy East Coast diction beat out Scranton by a vote of 10,404 to 8.748. (Yahoo)
RUSSIAN ARTIST CUTS OFF HIS EAR: A Russian artist cut off his ear to add to his collection of self-mutilation stunts. Petr Pavlenskiy, who previously nailed his private parts to the ground, emulated Vincent van Gogh to protest against his country's authoritarian regime. During the stunt, he sat naked atop a wall while he sliced off his ear. Minutes later, police arrived and put the artist in a headlock while dragging him away. (Mashable)
SOCCER PLAYER DIES AFTER ON-FIELD CELEBRATION: An Indian soccer player died after celebrating a goal. Defensive midfielder Peter Biaksangzuala scored a game tying goal and then took off toward the sideline. He cart wheeled into a back flip, but landed on his head. The team's jubilation quickly switched to concern as the midfielder did not get up. He was rushed to the hospital with severe spinal damage, where he eventually passed away. His team Bethlehem Vengthlang FC retired his jersey, number 21.
GIRL'S LETTER UNDERNEATH HER PILLOW: http://some.ly/1wkLSQp
CONVICTED MURDERER SUES STATE OVER PORN BAN: A convicted murder is suing Connecticut because its ban on pornography in prison violates his constitutional rights. Dwight Pink Jr. filed the suit in July because the prison guards have used the policy to deny him an art book that depicts how to draw the human form. The state filed its response Monday and says Pink has not been harmed by the ban and none of his rights were violated. Pink is serving a 56-year sentence for his part in the 1998 slaying in Old Saybrook. (Yahoo)
PEOPLE ARE SELLING IMAGINARY FRIENDS ON EBAY: There are several people selling their imaginary friends on eBay. User ChuckFresh is currently selling his two best friends Sticks and Stones because his girlfriend said she would leave him if he kept them around. For only $100, you can purchase the pair. In 2007, eBay user "thewildandcrazyoli" successfully sold an imaginary friend for $2,750. (Huffington Post)
Last Updated on Tuesday, 21 October 2014 05:31
Monday, 20 October 2014 05:47
EBOLA HOAX: DRINKING BLEACH DOES NOT MAKE YOU IMMUNE: Social media started a rumor that drinking bleach will make you immune to Ebola. Unfortunately, the rumor is a hoax and is potentially dangerous. Swallowing too much bleach can lead to kidney failure forcing victims to spend the rest of their lives on dialysis machines. (Metro)
DOG IS ALLERGIC TO HUMANS: The owner of an Indianapolis dog rescue found out that a dog in her care is allergic to humans. A black Labrador named Adam was in bad shape when he came into the Lucky Dog Retreat. Adam, who was troubled by skin problems, wasn't getting healthier despite being given the best care. The dog was given a blood test that showed he was allergic to human dander. The rescue is raising money for Adam's care and veterinarians have designed a treatment plan.
DRUNKEN WOMAN THINKS JAIL IS A BAR: A very drunk woman apparently thought that a jail was a local watering hole. A 39-year-old woman mistook the Van Buren County jail for the bar where she was trying to pick up her boyfriend. The Michigan woman was seen backing into the jail parking lot in Paw Paw when police noticed she smelled of alcohol and appeared intoxicated. She's expected to face drunken driving charges. (Yahoo)
CEMETERY HOPES 5K RACE WILL DRAW NEW CUSTOMERS: An Illinois cemetery is embarking on a new marketing campaign that includes a 5K race and actors dressing as people buried there. The goal is to encourage more people to buy lots at the Springdale Cemetery in Peoria. Ten events will be hosted this month in an effort to bring newcomers onto the property. The cemetery has held the Ron Santo Walk and 5K to Cure Diabetes earlier this month and is set to hold the Screaming Pumpkin Race next week. (Huffington Post)
COUPLE GETS STUCK TOGETHER WHILE HAVING SEX IN THE SEA: A couple having sex in the ocean off the Italian coast became stuck together. The couple somehow became locked together at a mostly empty beach at San Porto Giorgio. After briefly panicking, the couple fought their way back to shore and flagged down a woman, who passed them a towel. They were taken to the hospital where the woman was given an injection commonly used to dilate the uterus of pregnant women." (Gawker)
Last Updated on Monday, 20 October 2014 05:49
Friday, 17 October 2014 06:12
PUB TO BREAK LONGEST CONCERT RECORD: An Irish pub on the Vegas strip is expected to break a Guinness World Record after hosting more than two weeks of nearly nonstop music. The concert began October 1st in the Ri Ra pub in The Shoppes at Mandalay Bay. The artists are playing nonstop with no more than a 25-second break between songs and a five-minute break between sets. (Yahoo)
CHINESE LOTTERY WINNER HIDES IDENTITY WITH BEAT SUIT: The winner of an $85-million-dollar jackpot wore a yellow bear costume to conceal his identity. The man, who won the third-largest jackpot in the history of the Shanxi lottery, kept the costume on when he spoke to the media. The mystery winner said he spends $3,200 to $4,900 on lottery tickets each year. He said he plans to donate some of his winnings to charity. (Metro)
PATIENT WOKE UP FROM COLONOSCOPY WEARING PINK PANTIES: A patient, who had his fellow co-workers perform his colonoscopy, woke up to find himself dressed in pink panties. 32-year-old Andrew Walls is suing the Delaware Surgery Center in Dover for what Walls' attorney called an "outrageous" prank by the victim's colleagues. The alleged prank, which occurred in 2012, led to Walls losing his job over "severe emotional stress." (Huffington Post)
TEEN LEAVES TIP COVERED IN POO: A teenager has been arrested after tipping a waitress with money covered in feces. The 17-year-old ate at the Brothers Bar and Grill in Indiana with six other Ball State football players. According to the police report, the waitress had a disgusting surprise when she came to collect the bill and smelled a "foul odor" coming from two dollar bills left as a tip. The suspect, who cannot be identified because of his age, was promptly arrested by police at the scene and taken to Delaware County Juvenile Probation Center. (Gawker)
300-YEAR-OLD RING IS FOUND SIMILAR TO LORD OF THE RINGS: A gold ring engraved with a romantic message has been unearthed and looks similar to the band in Lord of the Rings. Amateur treasure hunter Morley Howard was metal detecting in a newly plowed field in Somerset, England when he discovered a 300-year-old posy ring. The golden band, which reads "In thee my choys I do rejoys", might be sold to a museum once its age is proven. (Daily Mail)
Last Updated on Friday, 17 October 2014 06:13
Wednesday, 15 October 2014 05:26
26,714 ECSTASY PILLS SMUGGLED IN PICKLE CANS: A pair of drug smugglers have been jailed in France after 26,000-ecstasy pills were found hidden inside cans of pickles. French customs stopped the two men near the Netherlands border and found 13-cans of pickles. The seized drugs were estimated to be worth more than $253,100. (Navigator Online)
THIEF POSES AS WEDDING GUEST: A thief posed as a guest at a Connecticut wedding reception and stole gifts from the bride and groom. The man fled away from the scene with a birdcage filled with wedding cards. Police used dogs to track down the man, but only recovered an empty cage. The authorities have released pictures of the wedding crash from surveillance cameras. (Yahoo)
AIR UMBRELLA: A new Kickstarter campaign is trying to raise money for an umbrella that uses air to keep you dry. The new Air Umbrella was designed in Nanjing, China and is looking to raise $10,000-dollars for the project. The company says there are going to be three versions of the device each ranging in different sizes and price. The cheapest Air Umbrella is set priced to sell at $128 when made available for purchase. People, who make Kickstarter Pledges to the company, can expect their umbrellas by December 2015. (Mashable)
MAN JOINS CHICAGO MARATHON IN ATTEMPT TO ESCAPE POLICE: A Chicago man being chased by police joined the Chicago Marathon as he tried to escape the authorities. 28-year-old Bryan Duffy allegedly joined a pack of runners after cops began chasing him. Officers wanted to talk to Duffy after he was spotted digging around flower pots along the route. Police eventually apprehended Duffy and dug up 10 capsules MDMA and a wad of bills totaling $531. (DNA INFO)
CHICAGO IS THE "RATTIEST" CITY: Pest control company Orkin has dubbed Chicago the "rattiest" city in the United States. An analysis of rodent treatments performed by Orkin in 2013 indicates Chicago has the biggest rat problem in the United States, followed by Los Angeles, Washington, New York, and the San Francisco-Oakland-San Jose area. (Chicago)
Last Updated on Wednesday, 15 October 2014 05:29
Tuesday, 14 October 2014 09:57
PROSTHETIC LEG STOLEN NEAR STADIUM IS FOUND: A prosthetic leg, which was stolen from a veteran in a wheelchair outside the Eagles-Giants game, was recovered on a subway train. Sonny Forriest Jr. removed his leg while singing outside the stadium when a lady in her 20's took it. A Pennsylvania Transportation Authority conductor found the leg at about at the Olney station in north Philadelphia. Investigators have said it appeared that three women took part in the theft. (Yahoo)
NAKED WOMAN IN TREE GETS METH DEALER ARRESTED: A naked woman snitched on her drug dealer after being caught naked in a tree. Residents of Trinity Texas called the police after seeing a naked woman running around their neighborhood. When the authorities arrived on the scene, they found the woman in a tree. They soon received another call about a man running around the neighborhood naked, who turned out to be the woman's boyfriend. The couple admitted they had taken some drugs, and said they'd been searching for their dealer. They texted the alleged dealer and arranged a meet up, which resulted in the arrest of Jacob Walker. The naked couple was let go because they were cooperative and no longer a threat. (Huffington Post)
POLICE HECKLE COMEDIAN WHILE MAKING ARREST DURING HIS SHOW: Standup Comedian Adam Newman was halfway through his set when police walked into the crowd with flashlights. The NYPD proceeded to arrest an audience member and hurl expletives at Newman. Newman, who was trying to record a demo for Conan, used the incident as material for the rest of his set. (Gawker)
EBOLA THREATENS WORLD'S CHOCOLATE SUPPLY: Ebola could severely affect the world's chocolate supply. The Ivory Coast has closed its borders with Liberia and Guinea because of the outbreak. The two countries west of the Ivorian border, are among the countries worst affected by the virus. The Ivory Coast is responsible for supplying 30-percent of the planet's cocoa and the World Cocoa Foundation is aware of the implications such a move may have on the chocolate industry. (Mirror)
Last Updated on Tuesday, 14 October 2014 09:59
Tuesday, 30 September 2014 05:29
DIAPER SMUGGLERS BUSTED IN SWEDEN: Two Lithuanian men were caught trying to smuggle more than 25,000-diapers to sell on the black market. Swedish police say the two unidentified men purchased diapers in Norway, where they cost less than $1-a-piece. The men were supposedly looking to sell the diapers in Eastern Europe, but failed to cross the border in Jamtland because they didn't pay taxes on their merchandise. (The Local)
THE VULGAR CHEF RECIPE BOOK: An infamous food blogger just released a book documenting his food mashups including a cookie dough cereal bowl, a red velvet corn dog, and the cookie burger. The Vulgar Chef, who is known for expletive laden Instagram and heart stopping recipes, released the Eat Like Sh!t cookbook complete with his typical high calorie faire. (Metro)
HAPPIEST MUG SHOT EVER: A bank robbery suspect took one of the happiest mug shots. 45-year-old Michael Whitington's picture shows him with a wide, toothy smile, Police say he robbed a bank and tried to get away on a train, but was stopped a few blocks away from Denver's 16th street mall. (Huffington Post)
HUMAN FECES DROPPED FROM PASSING JET: A New Zealand woman says her house and car were covered in excrement from a passing plane. Karen Bass's home is directly under the flight path for planes flying into Auckland International, which she believes left her property in disarray. A sample of the dirt is going to be independently tested to confirm her suspicions. Experts believe that Bass' situation could be several things, including bird droppings, but admitted that "nothing is impossible". (Daily Mirror)
Last Updated on Tuesday, 30 September 2014 05:30
Monday, 29 September 2014 05:51
MAN DIES CROSSING STREET TO FUNERAL HOME: A Delaware man died while attempting to cross a street to get to a funeral home. 51-year-old Bruce Johnson was hit by a jeep while trying to get to the Bennie Smith Funeral home in Dover. Authorities say there will be no charges filed against the driver and that alcohol was not a factor. (Yahoo)
MARIJUANA YOUTUBE CHANNEL BUST: Las Vegas Police raided a house after the owner posted weekly updates on YouTube bragging about his marijuana crop. Jason and Stephanie Pelletier were arrested after Jason posted videos on YouTube under the name "Buddynuggets78". In the videos, Pelletier walks around explaining his water and power usage while identifying the different strains of pot, noting when they would be available for harvesting and then for sale. (Raw Story)
MAN UNLOADS GUN THE ONLY WAY HE KNOWS HOW: A 31-year-old fired a bullet that broke a neighbor's window because it was the only way he knew how to unload the weapon. No one was injured during the incident, but George Byrd IV is facing charges including persons not to possess firearms and discharging a firearm into an occupied structure. (Bucks County Courier Times)
THREE BREASTED WOMAN HALLOWEEN COSTUME: The three-breasted woman has inspired a Halloween costume despite being a hoax. Halloweencostumes.com created the perfect costume, which looks exactly like Jasmine Tridevil's viral selfie. The website created the costume overlapping two pairs of our "super drooper boobs" together and covering them in shiny pink fabric. (Metro)
MAN REFUSES TO MOVE CAR FOR HELICOPTER LANDING: A Florida man refused to move his car so a helicopter could land and transport a victim to a hospital. 26-year-old Tessa George lost control over her vehicle and struck a tree. She was airlifted to a hospital, but 52-year-old James Allen refused to move his car when the helicopter needed to land. Allen was charged with failure to obey police-fire department orders and resisting an officer without violence. (Yahoo)
Last Updated on Monday, 29 September 2014 05:58
Friday, 26 September 2014 06:25
PORNHUB IS LAUNCHING A RECORD LABEL: Adult website Pornhub has announced it is launching its own record label. Pornhub Records' first act is to find an official "anthem", offering prizes including $5,000 cash to create a music video to debut on the site. Pornhub has already received about 50 submissions, including some "erotic folk" songs.
GAMBLER SAVED BY SLOT MACHINE: A gambler in Germany was saved from prison by a slot machine. Two officers were carrying out routine checks at a casino when they discovered a man who had a warrant for his arrest. He had been ordered to pay a $910 fine or go to prison for 71 days after resisting police during a previous incident. As officers informed the man that he faced arrest, the slot machine started to flash and the beaming 37-year-old won a $1,270 jackpot. He paid on the spot! (Huffington Post)
POLICE WANT OWNERS TO CLAIM POT PLANTS: Police are asking the owners of some marijuana plants to come forward to "Claim" their property. The Northern York County Regional police made a post about the plants on twitter. It is unlikely would return the plants thought because it is illegal to have them in Pennsylvania.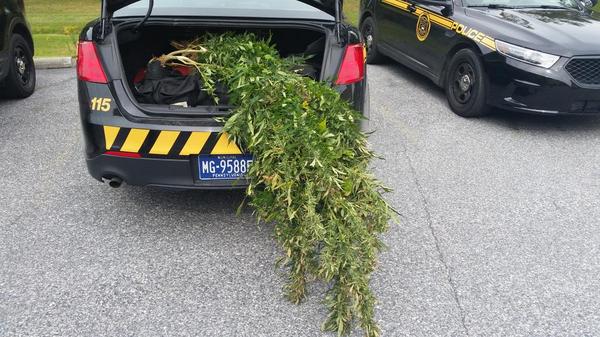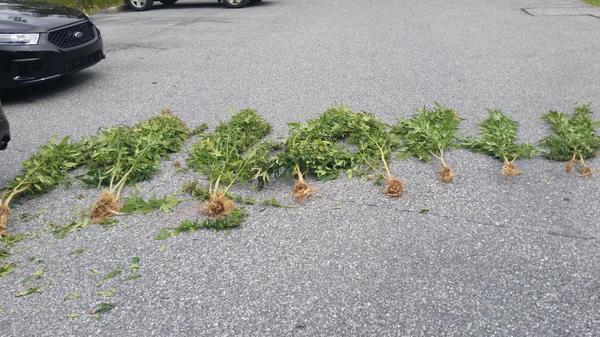 POTATO STOCK: An Ohio man's request for a little help making potato salad has culminated in Potato Stock 2014. The charity event to help prevent hunger and homelessness was all started by a Kickstarter campaign to raise $10 for potato salad. Soon fans of potato salad had helped Zack Danger Brown garner international media attention and accumulate more than $55,000. The Columbus, Ohio event is completely free and will have 300 pounds of potato salad. (Yahoo)
Last Updated on Friday, 26 September 2014 06:33
<<

Start

<

Prev

1

2 3 4 5 6 7 8 9 10 Next > End >>


Page 1 of 100