Wacked Out News
Monday, 07 April 2014 08:03
NEO-NAZIS ARE USING COOKIE MONSTER TO RECRUIT: A man dressed as the Cookie monster and his accomplice were arrested after handing out neo-Nazi leaflets to children at a school in Germany. According to German police, 31-year-old Steffan Lange -- who was dressed as the monster -- walked into a school in Seftenberg to try and spread his Neo Nazi pamphlets. The two were arrested after a teacher complained to police. A spokesperson has confirmed that Sesame Street characters have been increasingly used as a symbol of the far right to recruit children and get them interested in their politics. (Daily Mail)

TWITTER EMPLOYEE LIVE-TWEETS THE BIRTH OF HER DAUGHTER: A Twitter employee was so committed to her job as a "manager of social innovation" that she live-tweeted the birth of her daughter. Claire Diaz-Ortiz, who lives in Buenos Aire with her husband, blogged from the twitter handle @claire. She started the live tweeting session by announcing the contractions until finally announcing the birth of her baby girl Lucia. (Buzzfeed)

PILLOW FIGHT DAY: Hundreds of people around the world celebrated the world's 7th annual Pillow Fight Day. Participants from New York to Austria participated in the event on Saturday (April 5th). One pillow fighter from Croatia said the only drawback was that there were too many little girls at the event and so "you can't hit as hard as you want." (WSJ Live)

SQUIRREL-COOKING COUPLE SUED FOR $2-MILLION: A couple is being sued after a fire was started when Khek Chanthalavong used a blowtorch to burn off a squirrel's fur. Chanthalavong used the torch on his balcony then left it on the balcony unattended. His then-girlfriend Barbara Pellow, awoke to find Chanthalavong screaming and battling the fire on the deck. Two insurance companies have filed a suit against the couple totaling more than $2-million. (Huffington Post)

TETRIS FANS PLAN SKYSCRAPER-SIZED GAME: Hundred of Tetris fans played the game on the side of a 29-story building. The Cira Centre, which has hundred poof LED lights embedded in it glass facade , was used as a "screen" for Tetris fans to play on the side of the building. The players used a joystick to maneuver the blocks and had to play about half-a-mile away. The spectacle, which celebrated the 30th anniversary of Tetris and kicked Philly Tech Week, was arranged by Frank Lee, and associate professor of digital media at Drexel University. (Huffington Post)
Friday, 04 April 2014 13:05
ALCOHOLIC STENOGRAPHER TYPES "I HATE MY JOB" OVER AND OVER: A Manhattan court stenographer jeopardized the outcome of more than 30 verdicts after repeatedly typing "I hate my job" instead of recording the court conversations. 43-year-old Daniel Kochanski, who only typed gibberish and the phrase "I hate my job" during several cases, has forced judges to hold "reconstruction hearings" in which everyone in the case has to testify what they remember. Claudia Trupp, of the Center for Appellate Litigation, said that she never had a situation where a single court reporter was responsible for so much damage." Kochanski, who is a self-admitted recovering alcoholic, was fired in March 2012 for misconduct, but has denied deliberately making errors. (Daily Mail)

COUPLE BANNED FROM NAMING SON "WIKILEAKS": A father has been forbidden from naming his newborn son "WikiLeaks" amid concerns that the name could endanger the baby's welfare. Hajar Hamalaw, a journalist and photographer who fled Iraq in 2000, said that the organization founded by Julian Assange has had a deep impact on him, but German officials thought otherwise. The German official at Passau's registry office initially didn't know what WikiLeaks meant, but the name was rejected upon further investigation. The family, who settled for the name Dako, has continued to call their son "WikiLeaks" despite the ruling. (NBC)

ONE IN TEN CHILDREN, "DO NOT REALIZE THEY LIVE ON PLANT EARTH": According to an Alton Towers Resort poll, one-in-ten children do not realize that they live on planet Earth. The poll, which surveyed 500 six-to-ten-year-olds, was released as CBeebies Land at Alton Towers prepares to open on May 24th in England. The test also showed that children could easily recognize celebrities such as David Beckham and Simon Cowell, but had a hard time identifying an avocado.(Metro)

GIRL GETS STUCK IN DRAIN AFTER DROPPING PHONE: A 16-year-old British girl, who found herself stuck in a storm drain while trying to fetch her cell phone, was so stuck that firefighters had to lift her out. Elle Birchenough, who was up to her waist in the drain, dropped her iPhone while talking to someone. Her mom, who was nearby at the time, called emergency responders, but witnesses said Birchenough was more "concerned with getting her phone back than getting out of the drain." (Huffington Post)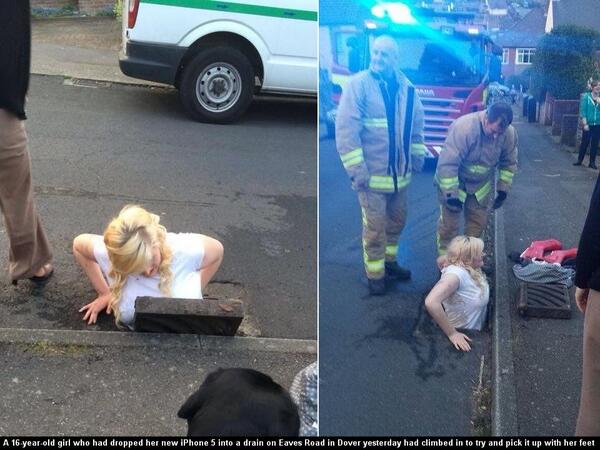 MEDIEVAL POOP BARRELS STILL SMELL: Archeologists excavating in the town of Odense, Denmark unearthed medieval barrels that were used in the town's old toilet area. The excrement, which is about 700-years-old, is still in "excellent condition" and has been analyzed to provide some clues about life in Denmark 700-years-ago. Preliminary results have shown that raspberries were popular in the 1300s and that small pieces of moss, leather and fabric were used as toilet paper. (UPI)
Thursday, 03 April 2014 10:16
SEMI CARRYING 180,000 EGGS STOLEN IN FLORIDA: Florida police are still searching for a thief that stole an 80-foot truck containing 180,000-eggs on Saturday (March 29th) night. The rig was stolen from behind a 7-Eleven in Fort Meyers while the driver, Joe, was at his home about a mile away. The missing truck and eggs are valued at almost $250,000. Unfortunately for owner Jeff Shoff, the police currently have no leads because the 7-Eleven did not have any security cameras behind the building. (UPI)

GEORGIA MAN BURGLARIZES HOMES WEARING ONLY A COWBOY HAT: A 21-year-old Georgia man has been arrested for allegedly carrying out burglaries while wearing nothing but a cowboy hat. Ashdon Gibbs, who was caught on surveillance video at the home of John's Creek City Councilwoman Cori Davenport this week, ran off after Davenport called 911. Gibbs was later found in another man's home listening to "Elvis on a vintage jukebox" and watching the Braves games while drinking beer. When he was arrested, Gibbs was wearing Johnson's clothes and told police he was a U.S. Marshal. (UPI)

MAN MASTURBATES AT NATIONAL PARK AND THROWS DEAD ANIMAL AT A CAR: A 68-year-old man was practicing yoga at a national park in Virginia when he allegedly began waving his arms wildly and masturbating. Two female visitors to the Mount Vernon Trail complained to park police after seeing Bill Kachle pleasuring himself. Upon being spotted, Kachle picked up a "dead animal" and ran onto the George Washington Memorial Parkway, where he threw the carcass at a passing car. He was arrested March 27th and charged with disorderly conduct and obscene acts. (The Smoking Gun)

MAN STEALS TRACTOR AND PICKS UP TWO WOMEN: A Dayton man stole a tractor and managed to pick up two women for a ride. The tractor, which was parked at Dayton's Kettering Fields park, was discovered missing after the previous user left the keys in the cup holder. 51-year-old Jeffrey Dalton was found driving the red Toro Workmaster with two women as passengers. Dalton, who told the woman that he borrowed the tractor from his boss, explained to officers that he was about to return it, but then declined to answer any more questions. He was charged with felony theft. (WHIO)

MOON ROVER REALITY SHOW: The Science Channel and Discovery Channel have announced that they will air a $30-million competition to land a craft on the surface of the moon. The networks will serve as the home for the Google Lunar XPRIZE, which is the largest incentive based prize of all time. The XPRIZE aims to create a new "Apollo" moment for this generation and to spur continuous lunar exploration with $40 Million in incentive based prizes. The Science Channel and Discovery Channel will follow the entire process including testing, lift-off, and live coverage of the winning lunar landing, which is estimated to take place in 2015. (Daily Mail)
Wednesday, 02 April 2014 11:23
HEALTH CARE SEEKERS GET CONNECTED TO PHONE SEX LINE: The hearing-imparted were in for a surprise on Monday (March 31) when they tried to sign up for government health care. Individuals who called the toll-free number listed on the Covered California website, found themselves on the phone with "America's hottest talk line." The outgoing message said, "Ladies to talk to interesting and exciting guys free, press one now. Guys, hot ladies are waiting to talk to you. Press two to connect free now." A spokesperson for Covered California originally denied that there had been a mistake but realized that the number on their site was incorrect after further investigation. The number has since been corrected. (UPI)

WOMAN WHO DIDN'T KNOW SHE WAS PREGNANT GIVES BIRTH IN DRIVEWAY: A Connecticut woman, who thought she had a stomach virus, was surprised to learn she was pregnant when she gave birth to a baby boy in her driveway on Saturday morning (March 29). Jennifer Scollin says she was feeling fine until a few day before she gave birth, but thought she was just stressed from work or fighting a stomach bug. Once her water broke, the baby came so fast that she gave birth before paramedics had a chance to pull out of her driveway. This was not Scollin's first pregnancy. She also has a four year old daughter named Kelsey. (CT Post)

ARREST MADE IN FISH-SLAPPING INCIDENT: An arrest has been made in a fish-slapping that took place at a British super-market in early February. At the time of the incident, a teenage girl approached the 52-year-old victim while she was working behind the seafood counter and inquired about the different types of fish. Before she could answer, the girl picked up a large, wet bream and slapped her across the face with it. She fled the store, but was caught on camera and the video was used to identify her. The attacker has been forced to apologize and police consider the matter resolved. (Mirror)

CHRISTIAN WOMAN RECEIVES SATANIC STARBUCKS ORDER: A Christian woman was offended by a Starbucks barista who used caramel to drizzle symbols of the devil on top of her latte foam. The employee drew a pentagram and a 666 on top of her beverages at the Starbucks in the Mall of Louisiana. The customer, Megan Pinion, took to Facebook to complain. She wrote, "I unfortunately can't give the young man's name who served it, because I was so appalled that I could not bring myself to look at him. I am in no way judging his beliefs or dis-meriting his beautiful artwork, I am however judging his lack of professionalism and respect for others...I am of Catholic faith and would love to share in my beliefs daily. Fortunately I have enough common sense to present myself with professionalism and follow an ethics code." Starbucks has apologized for the incident. (Daily Advertiser)

ANTI-ROB FORD CAMPAIGH HITS TORONTO: As Toronto's mayoral election approaches, a political group has started campaigning against the city's notorious Mayor Rob Ford with a series of hilarious signs. The slogans put out by the group No Ford Nation include:

When I Urinate In Public, I Never Get Caught on Camera, Vote Jim Tomkins
Elect Jeff McElory. He promises to Just Smoke Pot As Mayor. Not Crack.
If Elected, I Promise I Will Just Get Publicly Drunk. Vote Ray Faranzi.

The group maintains that anyone's better than Rob Ford and says that their aim is to see a new leader elected to serve Toronto.
Tuesday, 01 April 2014 12:58
BOY FINDS 1,000 YEAR-OLD SKELETON IN YARD: A 14-year-old Utah boy digging a trout pond in his backyard stumbled across the remains of an American Indian who lived about 1,000 years ago. The boy was original freaked out, thinking that he'd stumbled on a crime scene. After contacting the police, experts from the Utah Department of Heritage and Arts came to excavate the bones, and the age of the remains were later confirmed by medical examiners. Archeologists are currently working to determine the skeleton's tribe and gender. (CBS News)

WOMEN GETS STUCK IN WELL WHILE HAVING SEX: A woman got stuck in a well while having sex with a man on a water wheel. The two were being intimate when the cover on the waterwheel well shaft they were on dislodged. She plummeted ten meters into a hole, while the man hitched up his pants and fled the scene. The two were near Playa Park, a popular Spanish waterpark. She was rescued by firefighters, but unfortunately no one could save her dignity. When she was pulled from the well, she was soaking wet and naked from the waist down. She was treated at a local hospital for symptoms of hypothermia before being discharged. (The Local)

VALET PARKS MAN'S CAR IN OCEAN: A Florida man was treated to the world's worst valet service on Saturday (March 29). After handing his keys over to the driver, a man's car went rolling down the dock and into the water at Fort Myers Beach. Local reporters were told that the valet might have forgotten to put the car in park. Divers had to retrieve the car on Sunday (WBBH)

MINI HERCULES GAINS FAME AFTER FACEBOOK POSTING BY HIS IDOL: Brandon Blake, an eight-year-old mini-Hercules became an internet sensation after impressing his hero, bodybuilder Frank Medrano. Medrano posted a picture of Blake to his Facebook page. The boy keeps himself in shape by eating meat and vegetables and doing chin-ups. He said, "I want to be able to do all the things which Frank can do and I also want to be really strong as well." (Metro)

CHEF PEELS APPLES WITH POWER DRILL: A chef has found a new way to peel dozens of apples in seconds. Jasper van Ramshort skinned apples in expert time by loading the fruit onto the front of his power drill. As the apples spun, he held them up to a peeler, taking of the skin in just a few quick moments. He posted the video to his Facebook page, where it has been shared more than 195,000 times (Daily Mail)
Monday, 31 March 2014 13:18
A MILLION JARS OF PEANUT BUTTER DONATED TO THE LOCAL DUMP: 25 tons of edible peanut butter, valued at $2.6 million has been hauled to a New Mexico dump. The peanut butter was originally made for Costco by Sunland Foods Inc. However, after receiving eight loads of the product, Costco determined it could not sell the jars because of leaky peanut oil. The company declined requests to let it be donated to food banks, repacked or resold to brokers who provide food to institutions like prisons, so all of the jars were hauled off to the dump. Sunland Foods is the peanut butter plant that was part of a large salmonella recall in 2012 and is currently being sold at a bankruptcy auction. (AP)

EMPLOYEE LEAVES ANGRY NOTE FOR BOSS: A Michigan gas station owner was publicly reprimanded for his tardiness by an angry employee. Joe, who works at a BP station in Grand Rapids, waited for over an hour after his shift ended for his boss to relieve him. He eventually locked up and left but not before leaving the following note on the front door:

Hey boss, learn to be on time or at least communicate when you are going to be late. +1 hour with no phone call is unacceptable. As you can see, the doors are locked. I went home. Fire me if you must, but realize I walked out due to YOUR negligence.

The manager later told a reporter that her alarm clock had never sounded, making her an hour and a half late for work, but claimed Joe never called her or any other employees prior to walking out. (UPI)

MAN SELLS HIS SKIN ON EBAY: A British tattoo artist has put is Jaguar print skin up on e-bay. Artur Mrozowski, 41, has hundreds of cat markings, covering 90 percent of his body. The highest bidder will be entitled to all of it once he dies. His skin has been put up for sale for a minimum bid of £75,000 or just under $125,000. As of March, 30 the highest bid is approximately $88. The sale closes on April 7. (Daily Mail)

LULU'S ANAL BLEACHING FOR KIDS: A Brooklyn shop for children's haircuts is the victim of a cruel WiFi prank. Someone located near LuLu's Cuts & Toys has named their WiFi "LuLu's Anal Bleaching For Kids." The owner of the shop says that people can access the WiFi from their smart phones in both of her stores and from her home. She has called Time Warner, Verizon, the police and her lawyer, but no one can do anything because they do not know where it is coming from. (Gothamist)

FAKE MAYOR USES TWITTER TO FOOL TOWN: A man convinced an entire town that he was their mayor, just by using Twitter. The faux mayor of Stafford, England created a profile with the bio: "I'm James Billington, the current Mayor of Stafford. Delighted to be representing the town of Stafford & surrounding areas. Views are my own." He began tweeting on March 8, and soon enough, convinced residents and local businesses that he was the mayor. His twitter photos included fake ribbon cuttings and campaign buttons. Eventually the Stafford Borough council caught on to the prank and asked him to take down his account was still active as of March 30.
Friday, 28 March 2014 12:58
ZOMBIE COLOGNE WILL SAVE YOU FROM THE APOCALYPSE: When the zombie apocalypse comes, you can protect yourself from certain doom by wearing death-scented zombie cologne. Chemist Raychelle Burks at Doane College in Nebraska has concocted a disguise that would make the living smell the same as their reanimated counterparts. The key to the cologne are the two chemicals produced by the body just after death, putrecine and cadaverine. Those combined with a little methane would help the living to smell just like the dead, saving them from an onslaught of zombies. (Time)

MAN SWALLOWS FORK IN BAR BET: A Romanian man went to the hospital complaining of pain after he swallowed a fork on a drunken bet. The 25-year-old did not tell the doctors why he was suffering, but it became clear once they saw an X-ray of his throat. Doctors chose not to operate and sent him home, hoping that it would pass naturally. The man clearly lost the bet - having told friends that he could ingest the utensil without any discomfort. (UPI)

TEEN SPENDS $25K MYSTERY DEPOSIT: A Georgia teen could face criminal charges after spending $25,000 that was accidentally deposited into his bank account. On May 7, a man sharing the same name as the 18-year-old deposited $31,000 into the First Citizen's Bank. SWhen the teen found the money, he promptly withdrew $20,000 in cash and spent an additional $5,000 on his debit card. When he went to withdraw the remainder, the bank realized their error and insisted he return the money. He claimed that money was an inheritance and has made no efforts to return the cash. Officials are considering whether or not to prosecute. (Consumerist)

WOMAN NAMED CRISPI TRIED TO BURN DOWN HOUSE WITH BACON: A Utah woman named Crispi tried to set her ex-boyfriend's house on fire by burning a pound of bacon. Cameo Crispi was arrested on March 14 and charged with arson after her ex called the police for help. When officers arrived on the scene, they found that she had been drinking and that she had left the door to a wooden stove open with a fire burning inside and hot coals on the floor and around the stove. There was also a cookie sheet with a pound of bacon sitting on top of the stove, burned and smoking with the burner on "high." (Daily Mail)

MAN LIVES ON BEER FOR LENT: A Toronto man has given up food for Lent and is living on only beer and other liquids. Chris Schryer, 33, hasn't had any solid food since March 5 and plans to continue his fast until April 13. His main source of nutrition is a custom-crafted beer called Brewmaster's Tithe that he created with the help of the Toronto-based Amsterdam Brewery. He told CTV that the German lager is providing him with about 2,000 calories a day and without it, he thinks he'd be emaciated. (UPI)
Thursday, 27 March 2014 10:32
BABY ROCKETS OUT OF MOTHER' WOMB DURING TRAFFIC ACCIDENT: A 40-year-old woman in China was in labor and on her way to the hospital when the motorbike she and her husband were riding was hit by a truck. According to reports, the baby was ejected from the mother's womb as the crash happened. The newborn was found 10-feet from the crash site with a bruise on his forehead. Neither the mother nor the father survived the accident, but the baby is perfectly healthy aside from a few scrapes and bruises. (The Stir)

JAPANESE MAN HAS SURGERY TO LOOK LIKE MICHELANGELO'S DAVID: A Japanese man named Alan has spent $150,000 on plastic surgery to look like Michelangelo's David. In the past year, he has had operations on his nose, four lift-and-tucks to remove wrinkles and injections designed to reshape his chin. Although he is only 20-years-old he told the Japanese TV show Is There Something Wrong With Me? that he will not rest until he has an "ageless face." Fortunately, he hasn't had to spend a penny of his own money on the surgeries. He says that he is in non-sexual relationships with five older women who have given him millions of dollars over the years. (Independent)

TEEN GETS MCDONALD'S RECEIPT TATTOOED ON ARM: A Norwegian teen has had had a McDonald's receipt tattooed on his arm. The 18-year-old's friends decided that he was too successful with the ladies and decided to punish him. They told him he could choose between a tattoo of Barbie on his behind or the receipt from his lunch on his right arm. McDonald's Norway says that this isn't a publicity stunt, but a spokeswoman did refer to him as a loyal customer. (Gawker)

MAN NAMED CHRISTOPHER REEVES ARRESTED IN SUPERMAN SHIRT: He was driving faster than a speeding bullet. Christopher Reeves, not to be confused with Superman star Christopher Reeve, was pulled over for speeding early Tuesday (March 25) when police found synthetic marijuana, drug paraphernalia and meth. At the time he was arrested, he was wearing a Superman T-shirt that can be seen in his mug shot. (Huffington Post)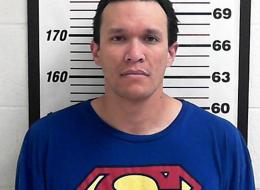 GIANT RAT TERRORIZES FAMILY: A giant rat terrorized a Swedish family for days before being caught by an industrial-sized trap. The family suspected that there was a mouse in their kitchen until they saw their cat flee from the giant rodent. A giant "Viking rat" measuring 15 inches without its tail, had chewed through their wall and into the kitchen. Despite the family's attempts to scare it away, it only grew braver and began making its way into the kitchen from its comfortable hiding spot behind the dishwasher. Exterminators were eventually called in, but their giant traps were no match for the rodent. After getting caught in one, he merely ran off with it hanging from his neck. He eventually got caught underneath a planter and choked to death. (Daily Mail)

WOMAN MAKES SIX-FIGURE SALARY EATING ON CAMERA: A Korean woman makes $9000 per month eating food on camera. The 32-year-old is known as The Diva and is one of the most popular food bloggers in Korea. Fans tune in to watch her prepare and eat huge, multi-course meals. According to The Diva, many of her viewers are young women who are on a diet and watching her eat is thrilling to them. (Time)
Wednesday, 26 March 2014 12:57
ZOMBIE BEER BREWED FROM REAL BRAINS: A Philadelphia brewery will be releasing a beer made of smoked goat brains to coincide with the season finale of The Walking Dead. The brew, named the "Walker" after the series' zombies, is an American pale stout flavored with brains that have been roasted over hot coals. It will be available at the Dock Street Brewing Company on Sunday, March 30. (Fox)

WOMAN SELLS WINNING LOTTO TICKET TO HERSELF: A deli owner in Virginia sold the winning Mega Millions ticket to herself. Glinda Salgado found out that her store sold a winning ticket, and would therefore receive a $10,000 bonus, but didn't actually think to check her own numbers until almost two weeks later. Her ticket was worth $1 million but since Glinda spent an extra dollar for the "Megaplier," she will actually receive $3 million. (Yahoo)

POTHOLE FILLERS GET STUCK IN POTHOLE: The potholes in Michigan have gotten so bad that one of the trucks dispatched to fill the holes managed to get stuck in one. A photo of the mishap gained notoriety when Reddit user khellendros98 posted the image along with the caption, "Welcome to Michigan. Where the pothole-filling crews get stuck in potholes." The Detroit News recently claimed that the notoriously pitted roads are giving a bad first impression to visitors at a time when the city is trying to attract investors. (Independent)

FOX GUARDS HEN HOUSE: When a fox gets into a hen house, it can be a nightmare. But when a teacher in Portsmouth, England found one in her school's chicken coop, it was curled up on a nest of eggs, keeping them warm until their mother's return. After being shooed away by an employee, the fox decided to take off, leaving all of the eggs intact and none of the chickens harmed. (Metro)
Tuesday, 25 March 2014 13:49
TEXAS TEEN TICKETS POLICE OFFICER: A Texas teenager wrote out a hand-made ticket for a police officer who parked his patrol car in a fire zone in front of an apartment complex. The summons was for $10 to be paid to the owner of the complex. The officer was so impressed with the 14-year-old that he not only paid the fine, but bought her $40 gift card to Toys R Us. (Yahoo)

PIZZA PLACE CHARGES $1000 FOR RANCH DRESSING: A Dallas eatery came under fire from Reddit users who thought their sign, charging $1000 for Ranch dressing, was serious. The owner of Cane Russo noticed that customers, college girls in particular, were always looking for ranch dressing to dip their pizza crusts in. He hung a bottle of Hidden Valley in his restaurant with a sign noting the steep price tag. Someone snapped a picture of it and posted it to Reddit, sparking a heated debate with nearly 1,000 commenters. Some called him a food fascist while others supported him. (Fox News)

IRELAND FACES SHEEP SHORTAGE: Ireland is facing a shaggy sheep shortage. Ireland is home to the Golden Shears World Championships and they're more than 1,000 animals short, with just a week to go until the "sheep shearing Olympics" kicks off. Organizers said they need ewes, aged 12 to 14 months, to ensure that all competitors are supplied similarly shaped sheep. (AP)

TEACHER THREATENS CLASS W/ GoT SPOILERS: A math teacher in France has found the key to quieting a noisy classroom. Students were threatened with Game of Thrones spoilers if they did not settle down. The teacher had read all of the books and told his pupils that he would write all the names of the dead on the board if they did not pay attention. The kids continued to giggle, and the names went up. The student who posted about the incident on the French website DansTonChat said that there was "religious silence" after that and referred to the teacher as a "genius." (UPI)

NO SEX FOR DIVORCING PARENTS: A bill has been proposed in Massachusetts that would prevent divorcing parents from having sex in the home until after all legal proceedings have been settled. According to Bill 787, "In divorce, separation or 209A proceedings involving children and a marital home, the party remaining in the home shall not conduct a dating or sexual relationship within the home until a divorce is final and all financial and custody issues are resolved, unless the express permission is granted by the courts." The bill does not name a penalty for violating the law and the state currently requires a waiting period of at least 120 days for divorces to become final. (UPI)
<< Start < Prev 11 12 13 14 15 16 17

18

19 20 Next > End >>


Page 18 of 109