Wacked Out News
Tuesday, 30 September 2014 05:29
DIAPER SMUGGLERS BUSTED IN SWEDEN: Two Lithuanian men were caught trying to smuggle more than 25,000-diapers to sell on the black market. Swedish police say the two unidentified men purchased diapers in Norway, where they cost less than $1-a-piece. The men were supposedly looking to sell the diapers in Eastern Europe, but failed to cross the border in Jamtland because they didn't pay taxes on their merchandise. (The Local)
THE VULGAR CHEF RECIPE BOOK: An infamous food blogger just released a book documenting his food mashups including a cookie dough cereal bowl, a red velvet corn dog, and the cookie burger. The Vulgar Chef, who is known for expletive laden Instagram and heart stopping recipes, released the Eat Like Sh!t cookbook complete with his typical high calorie faire. (Metro)
HAPPIEST MUG SHOT EVER: A bank robbery suspect took one of the happiest mug shots. 45-year-old Michael Whitington's picture shows him with a wide, toothy smile, Police say he robbed a bank and tried to get away on a train, but was stopped a few blocks away from Denver's 16th street mall. (Huffington Post)
HUMAN FECES DROPPED FROM PASSING JET: A New Zealand woman says her house and car were covered in excrement from a passing plane. Karen Bass's home is directly under the flight path for planes flying into Auckland International, which she believes left her property in disarray. A sample of the dirt is going to be independently tested to confirm her suspicions. Experts believe that Bass' situation could be several things, including bird droppings, but admitted that "nothing is impossible". (Daily Mirror)
Last Updated on Tuesday, 30 September 2014 05:30
Monday, 29 September 2014 05:51
MAN DIES CROSSING STREET TO FUNERAL HOME: A Delaware man died while attempting to cross a street to get to a funeral home. 51-year-old Bruce Johnson was hit by a jeep while trying to get to the Bennie Smith Funeral home in Dover. Authorities say there will be no charges filed against the driver and that alcohol was not a factor. (Yahoo)
MARIJUANA YOUTUBE CHANNEL BUST: Las Vegas Police raided a house after the owner posted weekly updates on YouTube bragging about his marijuana crop. Jason and Stephanie Pelletier were arrested after Jason posted videos on YouTube under the name "Buddynuggets78". In the videos, Pelletier walks around explaining his water and power usage while identifying the different strains of pot, noting when they would be available for harvesting and then for sale. (Raw Story)
MAN UNLOADS GUN THE ONLY WAY HE KNOWS HOW: A 31-year-old fired a bullet that broke a neighbor's window because it was the only way he knew how to unload the weapon. No one was injured during the incident, but George Byrd IV is facing charges including persons not to possess firearms and discharging a firearm into an occupied structure. (Bucks County Courier Times)
THREE BREASTED WOMAN HALLOWEEN COSTUME: The three-breasted woman has inspired a Halloween costume despite being a hoax. Halloweencostumes.com created the perfect costume, which looks exactly like Jasmine Tridevil's viral selfie. The website created the costume overlapping two pairs of our "super drooper boobs" together and covering them in shiny pink fabric. (Metro)
MAN REFUSES TO MOVE CAR FOR HELICOPTER LANDING: A Florida man refused to move his car so a helicopter could land and transport a victim to a hospital. 26-year-old Tessa George lost control over her vehicle and struck a tree. She was airlifted to a hospital, but 52-year-old James Allen refused to move his car when the helicopter needed to land. Allen was charged with failure to obey police-fire department orders and resisting an officer without violence. (Yahoo)
Last Updated on Monday, 29 September 2014 05:58
Friday, 26 September 2014 06:25
PORNHUB IS LAUNCHING A RECORD LABEL: Adult website Pornhub has announced it is launching its own record label. Pornhub Records' first act is to find an official "anthem", offering prizes including $5,000 cash to create a music video to debut on the site. Pornhub has already received about 50 submissions, including some "erotic folk" songs.
GAMBLER SAVED BY SLOT MACHINE: A gambler in Germany was saved from prison by a slot machine. Two officers were carrying out routine checks at a casino when they discovered a man who had a warrant for his arrest. He had been ordered to pay a $910 fine or go to prison for 71 days after resisting police during a previous incident. As officers informed the man that he faced arrest, the slot machine started to flash and the beaming 37-year-old won a $1,270 jackpot. He paid on the spot! (Huffington Post)
POLICE WANT OWNERS TO CLAIM POT PLANTS: Police are asking the owners of some marijuana plants to come forward to "Claim" their property. The Northern York County Regional police made a post about the plants on twitter. It is unlikely would return the plants thought because it is illegal to have them in Pennsylvania.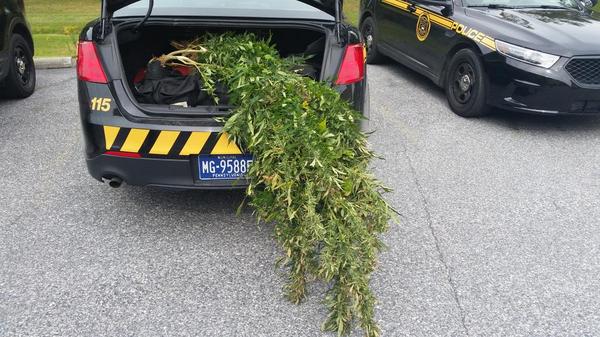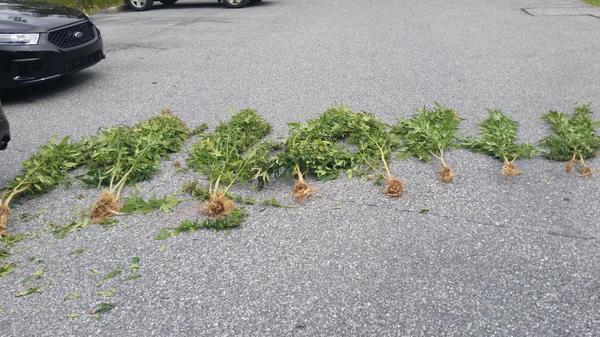 POTATO STOCK: An Ohio man's request for a little help making potato salad has culminated in Potato Stock 2014. The charity event to help prevent hunger and homelessness was all started by a Kickstarter campaign to raise $10 for potato salad. Soon fans of potato salad had helped Zack Danger Brown garner international media attention and accumulate more than $55,000. The Columbus, Ohio event is completely free and will have 300 pounds of potato salad. (Yahoo)
Last Updated on Friday, 26 September 2014 06:33
Thursday, 25 September 2014 05:32
CONDOM COOKBOOK: A Japanese cookbook titled Condom Dishes I Want To Make For You is full of recipes made with condoms. The book, which is available for $2.30 on Amazon Japan, includes recipes for escargot, curry pilaf, cookies and fruit parfaits. The top 100 bestseller was created to provide delicious recipes and promote condom use in Japan. (Kotaku)
TEACHER FIRED AFTER TALK OF KILLER ROBOTS: A San Diego teacher resigned after allegedly talking about programming robots to kill students. Tuyet-Mai Thi Vo was allowed to resign last year and received a $92,000 after the teacher and the Oceanside Unified School District came to a settlement. Vo supposedly said in 2012 that if robots were teachers, she would program them to shoot students when they misbehaved. (U-T San Diego)
BURGERS AND SEX TOYS : A Danish restaurant will become the country's first burger joint and sex shop. Hot Buns After Dark will allow customers to purchase burgers and fries in the same location as whips, chains, and other adult toys. The owner says the first 10 male customers Thursday(September 25th) will receive free penis rings while the first 10 women will receive free vibrators.
WOMAN IN CAR CHASE CLAIMS FOOT WAS STUCK: A 19-year-old is facing felony charges after leading police on a car chase that reached speeds of 100-miles-per-hour. Star Shields Williams was allegedly speeding in her red Ford Mustang when the officers tried to pull her over, but then the car started to speed up. Williams finally stopped the car on the side of the road Johnston County, in North Carolina. She tried to explain to police that her stuck foot was stuck on the pedal, but Shields was still arrested and charged with several felony charges.
Last Updated on Thursday, 25 September 2014 05:35
Wednesday, 24 September 2014 05:24
POLICE DELIVER PIZZA PIE: Two police officers delivered a pizza after a deliveryman was injured in a crash. Steve Huckins was concerned when police showed up at his Portland home, but started to laugh when they gave him a pizza. Officers Michael Filbert and Royce Curtiss finished the delivery after a Pizza Hut driver hurt his neck and back in the collision. (Yahoo)
CHEFS CREATE "HUMAN FLESH" BURGER: A pair of British chefs created a burger they say tastes like "human flesh". London baker Miss Cakehead and chef James Thomlinson designed the burger to answer the question, "What does human flesh taste like?" The burger contains pork, veal, chicken livers and bone marrow in an attempt to replicate the taste and texture of human meat. (Metro)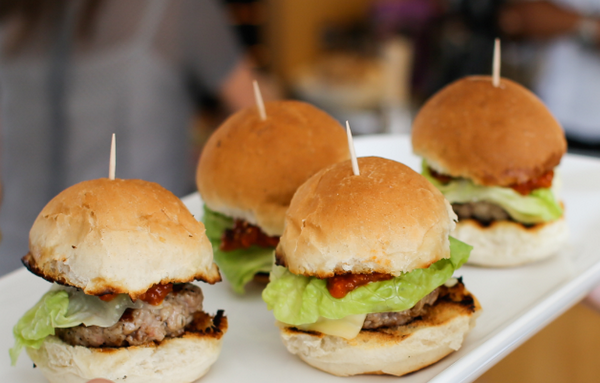 Someone's made a burger that tastes of human flesh. Have they gone too far?
BINKY BANDIT: The Oklahoma City Police Department are searching for a criminal they're calling the "Binky Bandit". The unidentified suspect had a binky in his mouth while he robbed a victim of his money and car keys. The suspect drove off in the victim's red 1997 Grand Prix and is still wanted. The suspect may have been using hallucinogenic drugs because pacifiers are often used to keep from drug user's from grinding their teeth. (Huffington Post)
TEXAS MAN USED COCAINE TO BUY VOTES: A Texas man used cocaine to secure votes for school board candidates in South Texas. 47-year-old Francisco Garcia was arrested and now faces voter fraud amongst other charges. An indictment alleges Garcia paid voters by giving them a "dime bag" of cocaine in the 2012 Donna school board elections . He is the latest to be implicated in a conspiracy to buy votes for the school board elections. Three women pleaded guilty earlier this year to voter fraud. (Yahoo)
THREE BREASTED WOMAN IS A FAKE: http://bit.ly/1ujiNr8
Last Updated on Wednesday, 24 September 2014 05:36
Tuesday, 23 September 2014 05:12
Last Updated on Tuesday, 23 September 2014 05:44
Monday, 22 September 2014 06:20
LOS ANGELES BAKERY DELIVERS MARIJUANA-INFUSED PIZZAS: A new startup in Los Angeles is delivering marijuana-infused pizzas to medical marijuana patients. Stoned Oven Gourmet Pizzas makes six-inch pies that contain 250-milligrams of THC. Customers must have a medical marijuana card to get the pizza, but if you do, you can get the marijuana pizza delivered right to your door. (Los Angeles Times)
2-TEENS DRAW 100-YARD PENIS ON FOOTBALL FIELD: A 50-year-old Mom and two teenagers allegedly burned a 100-yard image of a penis into a football field. Police say that the trio used grass killer to burn the turf in Temperance, Michigan. No photos have been released of their "artwork", which caused between 15,000-$20,000 in damage. The Detroit Free Press reports the woman, who has not been named because her daughter, a juvenile, could be identified, has been arraigned and is out on bond. (Huffington Post)
TIRED MAN BREAKS INTO POLICE STATION TO SLEEP: A tired man looking for a place to sleep "accidentally" broke into a police station. 59-year-old John P. Dettor was charged with unlawful mischief after reportedly using a traffic cone to smash through the window of Shelburne police station in Vermont. He reportedly caused damages of more than $250. Dettor pleaded not guilty to the charge at a Burlington district court. (Metro)
STOCKBROKER ATE NAPKINS TO HIDE INSIDER TRADING: A stock broker who admitted insider trading had a rather strange way of concealing his crime. 41-year-old Frank Tamayo would write secret stock tips on napkins and then eat them once his accomplice has seen them. Tamayo pleaded guilty to securities fraud, tender offer fraud, and conspiracy charges at the federal court in Trenton, New Jersey. Tamayo has already agreed to pay back more than $1million and will give up his 2008 Audi Q7 but faces a possible 20-year prison sentence. (Metro)
FLORIDA MAN THREATENS DRIVE-THRU EMPLOYEE OVER BURGER: A Florida man allegedly threatened to shoot a Checkers drive-thru clerk if he didn't hand over a burger. 27-year-old Dechazo Harris placed an order and pulled around to the pickup window when he decided that he wanted to change his meal. , Harris pulled out gun on the employee when he was told to drive back around to reorder. Harris was later identified and booked on aggravated assault charges. (Huffington Post)
Last Updated on Monday, 22 September 2014 06:28
Friday, 19 September 2014 10:04
LONELY MAN CALLS 911: A Pennsylvania man has been charged with making several 911 calls to report bogus emergencies because he was lonely. 52-year-old Gregory Shaffer called Westmoreland County's 911 call center three times over a four-span with various false complaints. The first time, Shaffer claimed he had fallen down some stairs and injured his head and neck. Paramedics say they found him intoxicated but otherwise well and calmly waiting inside his home. (Huffington Post)
MAN LANDS IN JAIL AFTER WASHING HAIR WITH MAYO: An Oklahoma City man was arrested for bathing in a public fountain. Police encountered 23-year-old Jorge Perez after reports of a man causing a disturbance. Perez was breathing heavily and soaked with water when police approached him. Perez told the officer he was wet because he was washing his hair in the Bricktown fountain using mayonnaise as shampoo. He was arrested for violating the city's ban on bathing in public areas.(News Ok)
MAN ROBS STORE WITH BANANA: A man armed with a banana robbed a convenience store in Philadelphia and then rode away on a bicycle . The suspect walking into Tejada Grocery and got in line behind a customer, where individual bananas were being sold. As his turn at the register approached, the man stuffed the fruit into the pocket of his hoodie and used it to simulate a gun.Police say the man demanded cash and cigarettes. (Yahoo)
10 METAL BALLS REMOVED FROM MAN'S PENIS: A Malaysian man had 10 metal removed from his penis after they started rusting inside of him. The man, identified as 44-year-old Ramli, implanted the balls himself because a friend told him he has successfully used the method to increase his sexual stamina. He had swelling for three days, but didn't go to see a doctor. The wound healed and the balls were helping, but a few months later Ramli couldn't get an erection. A doctor recommended he have the metal balls removed or risk irreversible impotence since the balls had started to rust. (The Star Online)
DRUNKEN MAN VOWS TO JOIN ISLAMIC STATE: A Tennessee man vowed to join ISIS after being charged with drunken driving. 24-year-old Marco Antonio Dominguez showed signs of intoxication when he was being questioned prior to his arrest. The police suspected that he had been in an accident when he pulled into a gas station with his car smoking and the windshield smashed in. Dominigues allegedly shouted quote, "I am going to join ISIS. When I do, you will be the first person I will kill," from the back of police car as he was taken to jail. (Yahoo)
Last Updated on Friday, 19 September 2014 10:08
Thursday, 18 September 2014 09:42
WOMAN FENDS OFF THIEF THEN GIVES BIRTH: A woman gave birth after she and her family captured a purse snatcher in a grocery store parking lot. The unidentified woman was putting groceries in her car when a man grabbed her purse. She chased after him, but was pushed down while in pursuit. The woman's family held 30-year-old Mark Newton after two bystanders were able to stop him and retrieve her purse. She delivered her baby later that day.
STRIPPER CHOCOLATE CHAMBERS ALLEGEDLY ROBS MAN OUTSIDE OF CLUB BOOM BOOM: A South Carolina man told police that stripper known as Chocolate Chambers robbed him outside of a strip club. 31-year-old Derrick Lashawn Sinclair was allegedly attacked by Chambers outside of Club Boom Boom. Police noted that Sinclair appeared intoxicated although he had a large cut over his eye, and there appeared to be blood on his shirt. The whereabouts of Chocolate Chambers is unknown. (Smoking Gun)
KILL THIS DOG CAMPAIGN:Killthisdog.com is a new in-your-face campaign launched by animal activists to spread the word about an apparent pet overpopulation in Broward County, Florida. Pet's Broward founder Meredith Bruder claims more than 20,000 cats and dogs are put to sleep at Broward's animal shelter every year. The killthisdog.com's billboards have brought a lot of attention to the group as well as the dead animal chalk outlines being placed on streets and sidewalks throughout Broward County. (Metro)
Last Updated on Thursday, 18 September 2014 09:45
Wednesday, 17 September 2014 12:51
PRANKSTERS MOCK CHECKPOINT ON SCOTLAND BORDER: A Scottish passport checkpoint that sprung up on the border between England and Scotland was just a prank. A guard and barrier were placed at the Scottish border as part of an elaborate prank to lighten the mood. Jon Parker Lee, the organizer of the mock border control, said he wasn't taking sides in the vote but hoped both countries would be 'united' in laughter. (Metro)
FANS URINATE IN GOALKEEPER'S WATER BOTTLE: A Swiss goalkeeper threatened legal action after fans of a rival team urinated in his water bottle and then taunted him when he took a sip. FC Muri goalkeeper Reto Felder said he felt sick after tasting the warm contents of the bottle, which he left near the goalpost. A group of unidentified fans persuaded a ball boy to pass them the bottle during the second half of the match.
MEN USE VATICAN CAR TO SMUGGLE DRUGS: Authorities in France used a Vatican vehicle to smuggle pot and cocaine to Spain. Cardinal Jorge Maria Mejia gave the car to two Italian men, who were supposed to give the car a tune up, but instead they drove to Spain to pick up cocaine and marijuana. The men were busted by French customs officers Sunday (September 15th) in Chambery as they headed for the border with Switzerland and Italy. The diplomatic plates did not stop officers from conducting a routine search of the vehicle and discovering the drugs.
TEEN ADMITS TO RUBBING HIS TESTICLES ON PIZZA: A teen employee at a Texas pizzeria rubbed his testicles on a pie because he was upset that the customer ordered it close to closing time. The customer arrived at Pappa Murphy's in Georgetown and caught 18-Year-old Austin Michael Symonds rubbing himself on the pizza. The teenager apologized to the customer and later admitted his actions to police. He was charged with tampering with a consumer product. (Huffington Post)
Last Updated on Wednesday, 17 September 2014 12:53
<< Start < Prev 1 2 3 4 5 6 7 8 9

10

Next > End >>


Page 10 of 109